Welcome to another issue of the Shepherd Guide!
Thank you for subscribing. As always, in respect for your time, I will keep these updates short and to the point.
Special note: Looking for a GSD? Please consult a German Shepherd Rescue. There are many deserving GSDs looking for their forever home.
---
March 2012

In this Issue:
In the News - Marine & MWD Reunited
GSD Hero of the Month - GSD Leads Firefighters to Crash Scene
Training - Gentle Leader
Health Issue - Thundershirt for Anxiety
What's On Your Mind?
---
1. In The News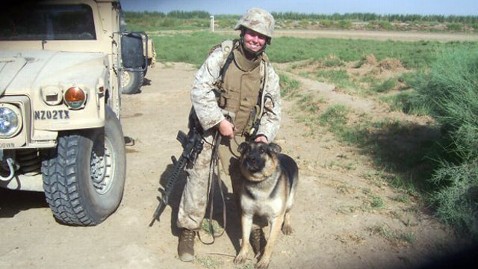 Former Marine Cpl. Megan Leavey, and her military working dog Rex, were severely injured in Iraq in a 2006 bomb blast. Leavey, a Purple Heart recipient, had been twice deployed with Rex, and applied for his adoption after the career ending event. She was denied when the military determined that Rex had healed from his wounds and was still able to work.
Sgt. Rex, now 10, is scheduled for retirement this year due to a developed facial paralysis that hindered his bomb sniffing abilities. When Leavey heard the news, she doubled her efforts to adopt him, enlisting the help of Sen. Charles Schumer and veteran's groups in her home state of NY.
The bureaucratic red tape Leavey fought was due to strict screening procedures to ensure that dogs with aggressive tendencies are not made available for adoption through the program.
A petition on Sen. Schumer's site requesting that these two military heroes be united received over 21,000 signatures.
On March 19, a spokesman from Camp Pendleton shared the good news. "We anticipate that as early as next week that Megan and the military working dog that goes by the name of Rex will be reunited," Capt. Barry Edwards said. "We wish Rex all the best in his coming years of relaxation with Megan."
"We salute the Air Force and the Marines for doing the right thing and allowing Rex to be with Corporal Leavey," said Schumer's office in a statement. "One canine, one human, both heroes. They should be united shortly and we're glad it's happening."
After a four year battle, Leavey is delighted that her perseverance paid off.
"We have been through so much together," she said. "... I've spent day and night with this dog. It's a very strong bond."
---
Have something incredible to share about your dog? How about telling us what makes your dog unique?
Share your dog stories here.
Read more stories about German Shepherds in the news.
---
2. GSD Hero of the Month
Firefighters searching for a reported auto wreck were led to the scene by Simon, the German Shepherd. The limping dog got their attention and led them a quarter mile to the crash site.
Tragically, his master, Gregory Todd Travers, died at the scene after losing control of the vehicle and crashing into a bridge support.
"I think the dog definitely meant to lead them there," Davie Batallion Chief Robert Belizaire stated, "I think he was out there looking for some help."
When Simon arrived, he circled his owner twice and licked him, trying to get a response, Belizaire said. Then he jumped into the car and waited.
Simon was taken to the county animal shelter where he was picked up by Traver's wife and taken home.
---
3. Training

One way to stop your dog from pulling on the leash is to use the Gentle Leader Collar.

This was the first thing I tried after Schatzi pulled my boyfriend down the steps and fractured his leg. Even on crutches, he was able to use the gentle leader headcollar to walk her easily.

The only things I didn't like was when the collar slipped and got too close to her eyes, and being very cognizant not to tug it unless a correction was needed. This puts too much pressure at the back of the next if you're not careful.

It's a tool you can use, but like all tools, it must be used carefully.
---
4. Health Issue

Ryder, my German Shepherd Malinois mix, is terrified of loud noises, especially thunderstorms. If he's outside and hears rumbling, he runs for the door and frantically tries to get inside. He was a shelter rescue, so I don't know much about his background, but I know he was left outside an awful lot.

But, once inside, he is not much better during a storm. He paces, whines, drools and will not leave my side.

I bought him the Thundershirt after it was recommended by a PetCo employee. She swears by it. She is still a little angry that someone stole her idea – 10 years ago, she used to put tight t-shirts on her thunderstorm fearing dog and it worked like a charm. Now, at the first sound of a rumble, her current dog runs for the dresser where she stores his Thundershirt!

So, I figured it was worth a try. It seemed to make him more mellow when I put it on him. I'll let you know how he does during the next thunderstorm.

Thundershirt Anti-Stress Wrap
---
5. What's On Your Mind?

As a fellow German Shepherd lover, I want to hear what you may have questions or concerns about.

What would you like to read about in future issues? Reply to this email and let me know.

Until next time,
Jennifer
http://www.german-shepherd-lore.com


Find Us on FaceBook: http://www.facebook.com/germanshepherdlore
Follow Us on Twitter: http://twitter.com/GSDLore


If you like this newsletter, tell a friend.