Buxton NC - Dog Friendly Vacations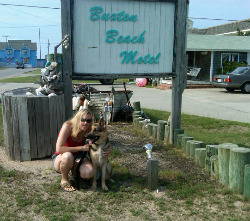 Last year, we discovered what has become our favorite dog friendly accommodations in Buxton, NC.
If you're looking for dog friendly vacations in the Outer Banks, check out Buxton, North Carolina, and the Buxton Beach Motel.
Where is Buxton, North Carolina?
Buxton NC is located on North Carolina's Outer Banks (OBX) about 47 miles south of Nags Head.
Buxton houses the famous Hatteras Lighthouse. At 208 feet tall, it is the tallest brick lighthouse in the US.
Buxton also boasts some of the nation's finest ocean surf fishing. Just ask any one of the local 1,400 residents about "The Point."
Accommodation - Buxton Beach Motel
This quaint assortment of 1, 2 and 3 bedroom units and cottages was built in the 1950's. It provides you with the simple comforts of home. All units are one story, nicely decorated to fit the ocean theme and many have kitchenettes equipped to cook a simple meal.
My favorite part of these dog friendly vacation rentals are the screened in porches, where my dog and I can relax and smell the wonderful ocean breeze.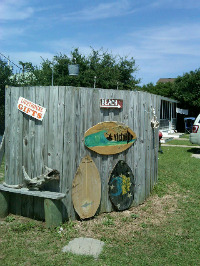 Though the outdoor shower with hot water is pretty sweet too. There's nothing like coming back from the beach and rinsing the sand off under a nice stream of warm water.
The property is located on a quiet, private road and the beach is only 200 yards from your front steps. And you don't have to cross the street to get there.
Those of you who like to fish will appreciate the fish cleaning station. Grills and picnic tables are available to enjoy your freshly caught fish. And a Food Lion is located just four miles from the motel to purchase any other grilling necessity. Conners is even closer and offers many healthy options.
Its fun to explore charming the town of Buxton with its narrow, winding streets and quaint shops. On every visit, I stop by Buxton Village Books to pick up a good beach read or two.
Dog Friendly Motels
Like all dog friendly motels, there are rules and regulations you must abide by. They are completely reasonable, but please read them before making your reservation. Unlike many rentals, you are not locked into a Saturday-Saturday or Sunday-Sunday stay. Just email your desired dates, send in a deposit, and look forward to a relaxing stay at the beach.
The owners, Dave and Judy, are obviously animal lovers, and there are several cats who live on the property. If you don't like cats, or your dog is not cat friendly, this may not be the best option for you.
Otherwise, the next time you Google, "nc nags head beach rentals dog friendly," remember the Buxton Beach Motel.
Book Now: