Illusion Collar
Looking for a better way to walk your dog?
The Illusion collar and leash set can help you not only train, but communicate better with your German Shepherd.
Learn to master the walk!
Master the Walk with the Illusion Dog Collar
"By mastering the walk, you have the ability to truly bond with your dog as her pack leader. The walk is the foundation of your relationship."
~Cesar Millan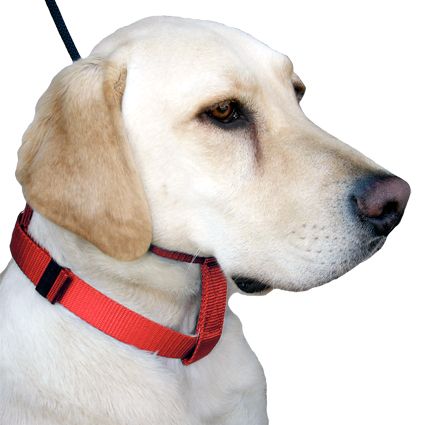 In working with scores of dog owners, Cesar and his former wife Ilusion, came up with an idea to help clients control their dogs during walks.
A two-collar design was created.
Why 2 Collars?
The top ring rests high on the neck which holds the slip collar in place at the top part of the neck. The lower collar acts as a stabilizer and wraps around the middle to lower neck.
How Does the Illusion Dog Training Collar Work?
The unique design offers maximum control over your dog. Since most collars are placed on the strongest part of your dog's neck, they are virtually easy for your dog to ignore. This makes them ineffective as a communication tool.
The slip collar allows for quick corrections. The leash loops around the top part of the neck and is held in place by the top collar.
Illusion Collar Versus a Choke Collar
Since dogs have an "opposition reflex," their instinct is to push against pressure. A dog can actually choke itself on a traditional choke collar.
Unlike a choke collar which slips to the strong middle part of the neck, corrections are easily felt by your dog. Once pressure is released, the Illusion dog collar allows the leash to easily retract, preventing your dog from choking.
Not For All Dogs
This collar is not designed for puppies, dogs with necks less than 13 inches or under 18 pounds. It also should not be used on dogs with "pushed in" faces, or trachea and throat problems (such as Pomeranians), or dogs with overly slender necks (like Greyhounds).
One of its 3 sizes is sure to fit your German Shepherd.
Small 13" - 15" (33 - 38 cm)
Medium 16" - 19" (40.5 - 48.25 cm)
Large 20" - 23"" (51 to 58.5 cm)

Cesar Millan Illusion Collar
When working with dogs, Cesar uses a somewhat cheap illusion type collar.
He actually prefers a simple rope which loops around the top of the dog's neck behind the ears. This gives him maximum control. While I wouldn't recommend a rope (he is a professional), this collar can do the same for you.
Initially, I did not know how to place it on my GSD. She looked like Hannibal Lecter the first time until I read the instructions and figured it out.
Now that she knows what to expect, it is much easier. And mastering the walk is a lot of fun.

---
The information and products recommended by german-shepherd-lore.com are not intended to take the place of expert veterinarian care. Please consult with your vet and ask about using a natural and alternative approach for the healthcare and treatment of your pet. Find a holistic vet.
---