Welcome to another issue of the Shepherd Guide!
Thank you for subscribing. As always, in respect for your time, I will keep these monthly updates short and to the point.
Special note: Looking for a GSD? Please consult a German Shepherd Rescue. There are many deserving GSDs looking for their forever home.
---
May 2011

In this Issue:
In the News - Cairo - GSD or Belgian Malinois?
GSD Hero of the Month - GSD Gives Life to Save Owner from Rattlesnake
Training - Made Easier with Proper Temperament
Health Issue - Dog Incontinence Products
What's On Your Mind?
---
1. In The News

Photo: US Army

"Double-O-Dog."
The debate continues... was it a German Shepherd or Belgian Malinois that assisted SEAL Team 6 with the raid on Osama Bin Laden's compound?
A military working dog (MWD) was strapped onto an assault team member as he was lowered out of a Black Hawk helicopter.
Conan O'Brien shared: "A bomb-sniffing German Shepherd went with those SEALs to Bin Laden's. The dog says the mission was OK, but he was really hoping Bin Laden had a cat."
But was it a GSD?
The military refuses to reveal breed... or gender. But, military sources say it was most likely a German Shepherd or a Belgian Malinois.
While the military uses several different breeds, the most commonly used are the GSD and Belgian Malinois, which "have the best overall combination of keen sense of smell, endurance, speed, strength, courage, intelligence and adaptability to almost any climatic condition," according to a fact sheet from the military working dog unit.
According to Major Ticer, a spokesperson for United States Special Operations Command, the dogs' primary functions "are finding explosives and conducting searches and patrols."
They can also:
run 2x as fast a human being
catch anyone attempting to escape from the compound
act as a psychological deterrent
Maj. William Roberts, commander of the Defense Department's Military Working Dog Center at Lackland Air Force Base in Texas, said the dog could have checked the compound for explosives and even sniffed door handles to see if they were booby-trapped.
"Dogs are very good at detecting people inside of a building," Major Roberts said.
Particularly in the Middle East, "There is a cultural aversion to dogs in some of these countries, where few of them are used as pets," Major Roberts said. "Dogs can be very intimidating in that situation."
We may never know the identity of Cairo.
Suzanne Belger, president of the American Belgian Malinois Club, said she was hoping the dog was one of her breed "and that it did its job and came home safe."
But Laura Gilbert, corresponding secretary for the German Shepherd Dog Club of America, said she was sure the dog was her breed "because we're the best!"
Have something incredible to share about your dog? How about telling us what makes your dog unique?
Have something incredible to share about your dog? How about telling us what makes your dog unique?
Share your dog stories here.
Read more stories about German Shepherds in the news.
---
2. GSD Hero of the Month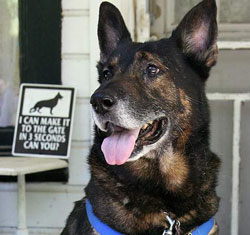 Photo: Laura Catoe

Rugar, an 11 year old GSD gave his life to save his owner, Connie Inglis, a professional dog instructor and obedience trainer.
On April 13, Inglis and Rugar were outside near her kennels.
"Rugar pulled away from me, and I looked and we both just froze."
They had both spoeeted a rattlesnake, coiled to strike.
Inglis tried to push Rugar behind her. That's when the snake struck, aiming for the woman's stomach.
"But Rugar leapt up and grabbed the head of the snake in his mouth. He slung it against the doghouse until the snake was still."
The proud owner excitedly told him, "you got it! You got it!" Then she noticed blood coming from Rugar's mouth.
The snake had bitten the dog in the tongue. Inglis rushed him to the veterinarian, but there was nothing that could be done.
"No question about it," Inglis says. "He saved my life."
Read more about German Shepherd hero Rugar.
---
3. Training

It must be puppy season. Every time I turn around, I hear that someone else got a new German Shepherd puppy.

If you are searching for one, and don't want to break the bank, you can find nearly free German Shepherd puppies from a GSD rescue group or your local shelter or humane society. Many of these dogs are purebred and looking for their forever homes.

Don't be fooled by backyard breeders. Find tips on identifying quality German Shepherd breeders.

Dogs bred without proper temperament will be much more difficult to train.
---
4. Health Issue

In the last issue, I mentioned that Schatzi had developed dog incontinence.

My vet prescribed Proin, and said her other clients had not experienced any issues with side effects. But since Schatzi is only 3 years old, I was hesitant to sentence her to a lifetime drug prescription.

Her accidents are fairly infrequent, so I figured there was time to try a more natural approach. I researched several dog incontinence products and have found some helpful recommendations.

Hope this helps anyone who may be going through the same thing.
---
5. What's On Your Mind?

As a fellow German Shepherd lover, I want to hear what you may have questions or concerns about.

What would you like to read about in future issues? Reply to this email and let me know.

Until next time,
Jennifer
http://www.german-shepherd-lore.com


If you like this newsletter, tell a friend.