Dog Incontinence Products
Dog incontinence products are extremely helpful once your dog has been diagnosed with canine urinary incontinence.
Using these incontinence supplies can make your dog much more comfortable and help keep your home clean.
Incontinence Medicine and Remedies
The most commonly prescribed medication for dog incontinence is Proin. Phenylpropanolamine (PPA) is a former human drug. It was pulled from the market and is now restricted to veterinary use.
I've heard mixed reviews on it, and am hesitant to treat Schatzi with it. She only wets the bed maybe twice a week, so a daily med does not make sense to me. And, like all drugs, it only treats the symptoms without getting to the root of the problem.
My holistic vet was able to cure my cat of asthma using good nutrition and homeopathy, saving me thousands in trips to the emergency vet. I've had great success using homeopathy in the past, so I've scouted out the best natural alternatives in dog incontinence products information.
Homeopathic Incontinence Products Information
Homeopathy does not typically treat each case as one-size fits all. So, what works for my dog, may not work for yours. It can be frustrating, but don't give up in finding a homeopathic remedy for dog incontinence - there is one that should work for your dog.
Genesis Resources Canine Incontinence Formula
These tablets include phytoestrogens from natural sources such as licorice, wild yam and other ingredients. Encouraging research has indicated that phyto-estrogens may help maintain the bladder and sphincter muscles and improve muscle tone.
Based on responses at the Only Natural Pet Store, currently 85% would recommend this product to a friend.
Try the Genesis Resources Incontinence Formula Dog Supplement Tablets
This formula includes a powerful combination of herbs, hormone-supportive botanicals, as well as Vitamin B6. The carefully selected ingredients work together to help support bladder muscle function and maintain bladder health in your dog.
Recommended by 92% of respondents, Only Natural Pet brand are 100% guaranteed.
Try the Only Natural Pet Canine Bladder Control Dog Supplement Tablets
Only Natural Pet Incontinence Homeopathic Remedy
Developed by holistic veterinarian, Dr. Jean Hofve, this formula is a combination of homeopathic ingredients designed to promote a feeling of well-being and vitality, iInstead of covering up the symptoms.
Following Aristotle's theory of "like cures like," homeopathy has been used for more than 200 years. If you had a cold, you would be given a formula that would create those symptoms in a healthy person, but in very dilute amounts. Sort of the way a vaccine works.
Try Only Natural Pet Incontinence Homeopathic Remedy for Dogs and Cats
Incontinence Diapers
Incontinence diapers can be very helpful in keeping your dog dry throughout the night, when most incontinence accidents tend to happen. They can also be a great relief, for days when you know you won't get home in time to let them out.
And, if you have a female in heat, these diapers can help ward off unwelcome attempts by male dogs.
The SnuggEase dog diapers are also green since they are washable. No need for disposable diapers and pads.
Try the SnuggEase Protective Dog Diapers
Eliminate Dog Urine Smell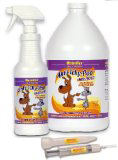 This is the absolute best product I have found for removing dog urine. And I have literally tried them all! It is especially effective in removing cat urine odor, which is much more pungent than dog urine.
Like most other deodorizing products, it doesn't just mask odors, the enzymes actually eat odor causing bacteria. I buy it in bulk so my home (with 2 dogs and 2 cats) always smells fresh and clean. And I am always prepared for accidents and "excited pees".
I always have Anti Icky Poo on hand
.

Dog Incontinence Products
It is frustrating for you and your dog to have to deal with dog incontinence. I truly hope that the dog incontinence products I have provided will provide some help for both of you.