Bissell Pet Hair Eraser Vacuum
The Bissell Pet Hair Eraser Vacuum was made to target pet hair.
If you are used to standard vacuum cleaners, pet hair is a tough opponent. Chances are high that you will be completely blown away by how much cleaner your floors and furniture appear after using the Pet Hair Eraser.
The Pet Hair Eraser really picks up more hair and keeps your home as clean as higher priced vacuums on the market, but there are some disadvantages to this vacuum as well.
Dog Vacuum
The Bissell Pet Hair Eraser Vacuum comes in a few different models:
The type that may be right for you will depend on the size of your home, and the number of animals you have.
Handheld Bissell Pet Hair Eraser Vacuum
Cordless
The cordless handheld version is good for spot cleaning and small messes, but should be considered a back-up vacuum. It does a decent job in the car.
One thing I really like is the nice rubber tip for catching pet hair, but it doesn't seem to work great on microfiber material. It also has decent suction and is not excessively loud.
The things I didn't care for:
unit requires 18 hours to charge before first use (charger works best when mounted on the wall)
charge indicator is somewhat unreliable as it stays red even when fully charged
filters are not washable... and need to be replaced fairly often
due to its size, the unit needs to be emptied frequently
If you need a quick vacuum for small messes, the cordless Bissell Pet Hair Eraser 94V5A
may work for you. Just don't retire your other vacuum.
Corded Bissell Pet Hair Eraser Vacuum
There is also a corded handheld version.
This unit has strong suction for a small vacuum. I really like the washable hepa filter and filter screen. You can make the filter last even longer by blowing canned air through it every couple of times you use it.
It comes with an interchangeable hard nozzle and flexible rubber contour nozzle, which are easy to switch out.
This vacuum is extremely lightweight, and since it is electric, with a 16 foot cord, no recharging is needed. Things I didn't like?
a bit loud, for such a small size
air (and debris) may sometimes escape from the sides
tends to blows dust and dirt around on hard surfaces
If your living space is small, and carpeted, the corded Bissell Pet Hair Eraser 33A1 may be a good fit for you. Depending on the size of your living quarters, this may make an excellent back up vacuum alternative.
Canister Bissell Pet Hair Eraser Vacuum
If you have a smaller home or apartment, the Bissel Pet Hair Eraser Canister Vacuum may be a good choice. Its powerful cyclonic suction provides an easily transition between carpet or rugs and hard wood or tile, with the simple flip of a switch. With 12 attachments, you can clean any nook and cranny of your home.
This bagless vacuum has dual HEPA Filters and a clean filter indicator to alert you when they need to be cleaned or changed.
It works great on stairs and has an automatic cord rewind. This affordable vacuum is light and quiet.
What I didn't like:
bin needs to be changed frequently
works better on carpetless flooring
The canister Bissell Pet Hair Eraser 66T6
may be the only vacuum you need if you have small living quarters.
Upright Bissell Pet Hair Eraser Vacuum
Model 3920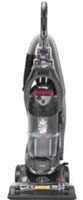 This upright bagless vacuum cleaner packs a powerful 12 amp motor. The powerful suction provided by its 2-stage cyclonic action and HEPA filtration eliminates tons of pet hair and dirt from your home.
It comes with attachments which allow you to reach into the small nooks and crannies in your home where dog hair typically accumulates unseen. Some of the tools include a crevice tool, dusting brush, TurboBrush and pet-hair lifter.
It is also designed to adjust to seven different heights, which makes it suitable for use on a variety of floor types. This dog vacuum is also convenient for use on stairs. You can pick up dog hair from hardwood floors, tiling, as well as a variety of carpeting heights.
This is one vacuum that can literally be used in all areas of your home.
The only things I didn't like are:
35 foot cord which can be cumbersome to rewind
power switch is in an awkward place
a bit clunky and hard to maneuver
If you need a decent vacuum that you can use anywhere in your house, check out the Bissell Pet Hair Eraser 3920
While the above upright has some disadvantages, I cannot recommend the following two upright models: 87B4
or the 87B43
. They both ran very hot, were difficult to use and way too fragile for my taste.
Bissell Lift-Off MultiCyclonic Pet Upright Vacuum, 89Q9
This bagless upright vacuum also has 12 amps. The multi-cyclonic system provides maximum suction power and HEPA filtration. And it has a detachable canister. Simply remove it from the unit and dump the contents into the trash bin.
Tools included are the combination dusting/upholstery brush, Pet Turbobrush crevice tool, and telescoping extension wand.
The main unit has a wide 15-inch cleaning path with adjustable height and Dual-Edge Cleaning. This provides a type of surround suction which makes it easy to clean those hard to reach places - baseboards and around furniture.
Some things to be aware of:
attachments can be difficult to lock into place (for use and storage)
dust can get trapped into the upper area of the canister

The Bissell Lift-Off MultiCyclonic Pet Upright Vacuum 89Q9
is also a decent all-around upright vacuum with some nice perks.
Bissell Pet Hair Eraser Advantages
The canister and upright models offer the Pet Hair Lifter. As you are vacuuming, this feature grabs pet hair when you pull back. Then releases it and sucks it up when you push forward.
Pet Dander Allergy HEPA Filter
A HEPA filter is a great advantage in a vacuum used to pick up pet hair. This ensures that dust and debris is not released back into the air as you sweep. The air is cleansed before being released so you are vacuuming much more than just your floors.
Bagless units are also a big plus. This means you never have the ongoing expense of purchasing bags. Or the hassle of trying to change them. Bagless vacuums are also more sanitary as you typically release dust back into the air whenever you change a bag. Look for a nice sized cup that is very simple to empty.
Bissell Pet Hair Eraser Disadvantages
The biggest complaint I have with the Bissell Pet Hair Eraser is that they tend to clog up often. Maybe that's because of the powerful suction that eliminates so much dog hair? When vacuuming pet hair, this unit seems to suck up more of it in less time than other vacuums. So, it almost makes sense that it may have to be emptied more often than other vacuums with less suction power.
That said, you are always going to deal with some clogging when you have a German Shephard or two in your home. If you know how to take the hose off of a vacuum you can unclog the unit on your own. In exchange for the super clean home that the Pet Hair Eraser delivers, this occasional chore might not be a big deal.
The Best Vacuum for Pet Hair?
Designed to pick up pet hair, the Bissell Pet Hair Eraser Vacuum line has powerful suction and decent prices.

---
The information and products recommended by german-shepherd-lore.com are not intended to take the place of expert veterinarian care. Please consult with your vet and ask about using a natural and alternative approach for the healthcare and treatment of your pet. Find a holistic vet.
---