Best Vacuum for Pet Hair
What is the best vacuum for pet hair?
Between my German Shepherd and Belgian Malinois Shepherd mix, my house was inundated with pet hair. Factor in 2 indoor cats and my hardwood floors resembled a desert with bundles of pet hair 'tumbleweeds' blowing around.
Somewhat entertaining, yet annoying at the same time.
So, I went on a quest to find the best solution. Luckily, today there are a number of vacuums created specifically for pet lovers.
Keep the Dog, Ditch the Hair!
If you own a German Shedder, you may also be looking for the best vacuum for pet hair. Between daily shedding and blowing their coats twice a year, dog hair seems to be everywhere.
Before I had dogs, my Hoover WindTunnel Bagless did an OK job. It was great at keeping the house clean and free of cat hair. But, two German Shepherds proved to be too much for my once favorite vacuum. Plus, it was a bit bulky and hard to maneuver. And, Schatzi barked at it because it was so loud.
In researching the best pet hair vacuum cleaner, I have found some promising recommendations.
Dyson Animal Vacuum
Dyson owners swear they have the best vacuum cleaner. Pet hair is no match for the improved Level 3 cyclone technology in the DC17 Animal Vacuum and the ball model of the DC25 Animal model.
Pet allergy relief can be yours with perhaps the best vacuum for dog hair. The Dyson pet vacuum cleaner is great for pet dander allergy as it is certified allergy and asthma friendly.
Find out more about the Dyson Animal Vacuum, specifically the Dyson DC17 Animal and Dyson DC25 Animal vacuums.

Miele Cat and Dog Vacuum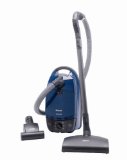 Is the Miele vacuum best for pets? The Miele vacuum motor packs 1200 watts of power. This German engineered canister vacuum is an excellent vacuum for pet hair. Electronic suction control with six settings and maneuverability removes hair from even the tightest of spots.
For discount Miele vacuums, reviews and more, get info on the Miele Cat and Dog Vacuum.

Bissell Pet Hair Eraser Vacuum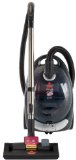 A lower priced vacuum designed for pet owners, the Bissell Pet Hair Eraser is excellent at picking up dog hair. A powerful suction and cyclonic technology allows this unit to clean your home effectively. Be aware that some have stated it can clog sometimes and may not be as easy to maneuver as other vacuums.
But, the decent price may make up for some of the inconvenience. Check out the Bissell Pet Hair Eraser Vacuum.