DIY Dog Training
Sharda Baker used trial and error to become a self taught trainer. Her DIY dog training methods have been tested with both dog owners and professional dog trainers, to ensure that her methods were sound.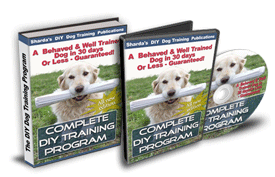 She found that in the majority of cases, dog training can be done at home and by yourself quickly and easily. There is normally no need to hire a professional.

This is such a complete manual, that it may be more information than you will ever need. It includes:
house training a dog tips and advantages of crate training (including training your dog to go "inside" for apartment or cold climate living) and litter box training where appropriate
quickly teach your dog to come, sit, stay, drop, stand and heel and walk your dog on a leash
dog psychology, how dogs learn, special voice tones to use, how dogs "speak" to each other and how to teach your dog to be calm around other dogs
how to buy a dog that suits you and your family, quickly determine a dog's temperament, safety for your young children and your dog and preparing your home for your new dog
manage a dog who has become a "fussy" or "finicky" eater and ramifications of leaving food and water out overnight
control your dog's barking and jumping while discovering how you may have encouraged it
teaching advanced commands

make training fun for your you and dog
Bonuses include a thorough potty training guide. As well as a barking busters manual, essential for German Shepherd training. There is also an informative interview with a Veterinary Surgeon. For those with fussy German Shepherds (like me), you also get an ebook on Managing Eating Problems and 101 Healthy Homemade Dog Recipes. Also included is a subscription to Sharda's Dog Health online forum.
Woof!
Private email consultation
Download and play the audio files on your MP3 player or computer
in-depth section on puppy development stages and socialization
Cheaper than other dog training programs - only $27.95
Info on training a german shepherd puppy and adult dogs
Grr...
Speaker's accent may be hard for some to understand
Some areas should have more in-depth information, instad of covering so many topics