Training a German Shepherd Puppy
Why is it Important?
Training a German Shepherd puppy is a must for a well adjusted German Shepherd.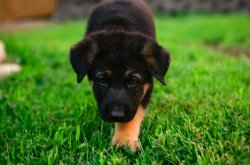 Your pup may be small, but don't forget that this is a large breed dog. Behaviors that seem cute now will not be quite as adorable when your dog reaches 80 pounds.
Puppy obedience training will help immensely.
German Shepherd Puppy Training
Early socialization is key. An unsocialized GSD can be dangerous and become a liability. As soon as your dog has all of her puppy shots, be sure to introduce your puppy to people, dogs, other animals, and places. If you have a cat, be sure to expose your puppy to the feline before it reaches 16 weeks. Otherwise, she may never accept your cat.
Types of Puppy Obedience Training
Training a German Shepherd puppy consists of:
Crate Training
Housebreaking
Obedience Training
When you crate train a dog, it seems to be of great assistance in house-breaking. The time it takes to housetrain a German Shepherd will depend on the dog and the method you use. Obedience training lays the foundation for other activities you may want to become involved with.
Training Stubborn Puppy
German Shepherds are highly intelligent. Ironically, this does not necessarily make easy to train. Because they learn quickly, they also become easily bored.
My GSD would be fine for the first 20 minutes of dog obedience puppy training class. That was her limit. Then she would start to misbehave and talk back. She knew how to sit and lay down on command and was tired of repeating these commands incessantly.
Patience is a must for training a German Shepherd puppy. Short training intervals work best. For you and your dog. When you get frustrated, know that is your signal to quit. It should be fun for both of you.
Puppy Training Biting
If your puppy nips, do not smack her on the nose. Puppies, especially GSD's like to engage in nipping during play. They do this with their littermates. And their littermates correct them when they become too rough by yelping and ignoring them.
Much like young children, puppies explore their world with their mouth (puppy mouthing). This includes you. If your puppy nips you too hard, you may let out a sharp "OW!" sound. Whether you yelp or not, immediately ignore them after the nip. Go to another room for at least 30 seconds. Your pup will soon put two and two together and realize that nipping you only serves to get her ignored.
The high pitched "OW!" didn't work with Schatzi. It only served to incite her more. So, instead, I said "OW" in a neutral tone and left her alone for a minimum of 30 seconds. She soon associated the word "OW" with losing her playmate and stopped nipping shortly thereafter.
Help With Training a German Shepherd Puppy
A Dog's Prayer
Treat me kindly, my beloved master, for no heart in the world is more grateful for kindness than the loving heart of me.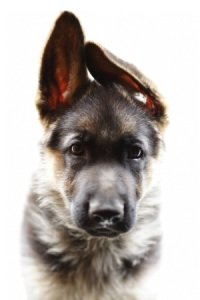 Do not break my spirit with a stick, for though I should lick your hand between the blows, your patience and understanding will more quickly teach me the things you would have me do.
Speak to me often, for your voice is the world's sweetest music, as you must know by the fierce wagging of my tail when your footstep falls upon my waiting ear.
When it is cold and wet, please take me inside, for I am now a domesticated animal, no longer used to bitter elements, and I ask no greater glory than the privilege of sitting at your feet beside the hearth, for you are my God, and I am your devoted worshipper.
Keep my pan with fresh water, for although I should not reproach you if it were dry, I cannot tell you when I suffer thirst. Feed me clean food, that I may stay well, to romp and play and do your bidding. To walk by your side, and stand ready, willing and able to protect you with my life should your life be in danger.
And, beloved master, should the Great Master see fit to deprive me of my health or sight, do not turn me away from you. Rather hold me gently in your arms as skilled hands grant me the merciful bounty of eternal rest. I will leave you knowing with the last breath I drew that my fate was ever safest in your hands.
Remember me not with tearful eyes, but instead with the abounding heart. Should you choose to fill my bed, feel no guilt, you have not betrayed me. Love another as you always loved me, and they too will love you as I always have.
Author unknown
German Shepherd Dog Puppy
When you get a German Shepherd puppy, know that they can live for up to 13 years. And they don't stay small forever. Training a German Shepherd puppy is a must and requires a lot of patience. Enlist the help of a professional if you become overwhelmed.

---
The information and products recommended by german-shepherd-lore.com are not intended to take the place of expert veterinarian care. Please consult with your vet and ask about using a natural and alternative approach for the healthcare and treatment of your pet. Find a holistic vet.
---