Choose from adorable cards with GSD puppies, cozy couch pictures, scenic holiday landscapes and much more. Your family and friends will enjoy receiving these beautiful cards as much as you will like sending them out.
You may not even want to send them out all. They are perfect for framing and adding to your Christmas decor.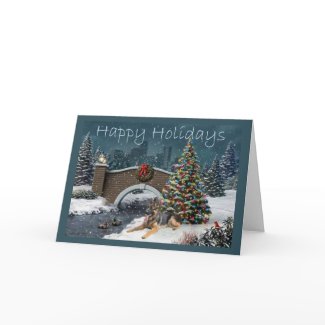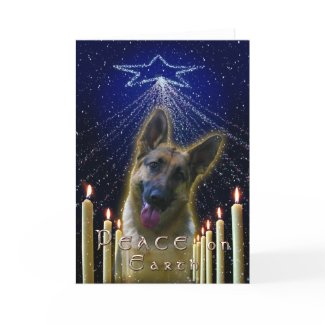 These gorgeous German Shepherd Holiday cards are available at Zazzle. You can also choose to send artful postcards.

Create personalized gifts at Zazzle.
German Shepherd Dog Christmas Cards at Amazon
You can also find German Shepherd dog breed Christmas cards at Amazon. Their selection is not as large, but you might find a design you like there as well.
Should you list the dog on your family's Christmas Card?
This is a great way to involve your pooch in the holiday tradition. Including your dog on the family Christmas card is a warm and personal touch.
You might even try giving your dog a festive look with a Santa hat or reindeer antlers.
Share the entire family, including the furry ones, with your friends and family. They will get a kick out of your dog's holiday spirit.

---
The information and products recommended by german-shepherd-lore.com are not intended to take the place of expert veterinarian care. Please consult with your vet and ask about using a natural and alternative approach for the healthcare and treatment of your pet. Find a holistic vet.
---