Looking for a Dog Christmas Costume?
Get ready for the holidays with a dog Christmas costume. Dressing up your German Shepherd in dog Christmas clothes will put the finishing touch on your family photo.
Looking for festive doggie duds?
If you want to dress up your dog in Christmas clothes, you will want to find the best Christmas dog costume.
Santa Paws
You can dress up your dog as Santa Paws, as shown in the picture to the right. Or simply crown them with a pair of reindeer antlers. Sometimes, a Santa hat will be all that is needed, or tolerated.
If your dog is not used to wearing clothing, be sure to let her thoroughly sniff and inspect the attire she will be donning. You may have to keep some treats handy. Use these for a reward when she does not fuss.
And practice patience. She may not want to wear a Christmas dog costume at all.
Dog Body Language
While it may be fun to dress up your dog, please keep in mind that clothing can mask dog body language, which is one aspect of how dogs communicate with each other.
Covering your dog in clothes can prevent effective communication through dog body language.
If your dog is covered with clothing, signals that she sends out may not be understood by other dogs. Be on the lookout for this as it may cause dog aggression.
If your dog's costume or clothing completely covers her body, be careful around other dogs, or only keep it on for a short period of time.
Dog Christmas Clothes
Dog Christmas Clothes Headwear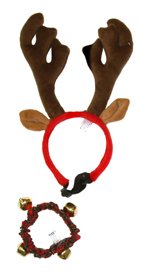 This is a great option if your dog does not object to headwear. This dog Christmas costume does not cover the body and allows for proper dog body language communication.
Why we like it:
Fits most large dogs
Nylon bell collar is stylish and comfortable
Adjustable straps help keep the antlers secure
This adjustable ribbon collar is stain and fray resistant.
High-tensile strength nylon webbing with polyester/nylon ribbons
Extra strength cast brass hardware
Plastic buckles are Coast Guard approved and prevent break-aways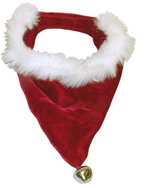 Your dog may be muh more tolerant to an adjustable Santa hat bandanna
Adjustable velcro strap
Soft plush fabric will not irritate your dog's skin
Makes for great holiday and party photos
Costume Craze also has a huge inventory of Christmas Dog Costumes