German Shepherd Pictures
Pictures of German Shepherd Dogs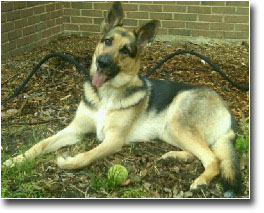 Ironically, the German Shepherd was not bred for beauty. Still, German Shepherd pictures are in high demand.

The founder of the breed strongly valued working ability over appearance. And yet, German Shepherds are beautiful dogs.
Resources for finding German Shepherd dog pics are listed below.

German Shepherd Pics
Find dog wallpapers and dog posters for the German Shepherd. Look through an assortment of pictures of German Shepherd dogs suitable for framing and mounting.


German Shepherd Puppy Pics
German Shepherd puppies absolutely adorable. Looking for cute puppy pics? Enjoy browsing the German Shepherd puppy pics posted by some of my 11 visitors. Share your favorite German Shepherd puppy pictures.




***z-dogtimemedia300x250.shtml***

---
The information and products recommended by german-shepherd-lore.com are not intended to take the place of expert veterinarian care. Please consult with your vet and ask about using a natural and alternative approach for the healthcare and treatment of your pet. Find a holistic vet.
---