Grain Free Dog Food
Dogs were not designed to eat grain. A grain free dog food offers a diet much closer to that which nature intended.
German Shepherd Dog Food
The best German Shepherd dog food should ideally be grain free. Grains may be well metabolized by humans, especially in athletes that 'carbo-load.' But, dogs do not process complex carbohydrates well. Unlike humans, dogs do not store up energy from consuming grains. Instead, it leads to an accumulation of lactic acid, in addition to other complications.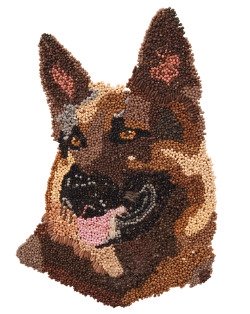 Cancer is also a growing problem in today's dogs. Grains are chock full of carbohydrates which are easily converted to sugars. Since cancer cells feed on sugar, it is believed that by decreasing the amount of carbohydrate in the diet, we can also reduce the risk of cancer.
Many dog foods proudly advertise high-quality, whole grains in their products. They go on to say that grains provide an "excellent source of protein" for dogs. While large amounts of grain can be an appropriate source of protein for some species, they are not suited for dogs. Canines were designed to eat meat.
Grain in German Shepherd Dog Food Recipes
'Whole grain' used in dog food formulas has often been deemed unfit for human consumption.
These grains are usually one or more of the following:
contaminated
damaged
moldy
poorly handled
spilled
spolied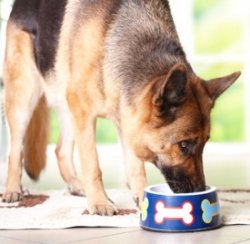 This type of grain is also known as "the tail of the mill." This "grain" can include hulls, chaff, straw, dust, dirt, and sand swept from the mill floor. These are not "nutritional" ingredients.
Many of these items, such as peanut hulls, are used strictly for "filler" and have absolutely no nutritional value at all. The only real purpose they serve is to cut costs for the pet food companies.
It is hard to believe that AAFCO approves any 'tail of the mill' ingredients as acceptable in your dog's diet.
Dog Food Allergies Symptoms
If your dog experiences any of the following, it may be due to the introduction of grains in their food:
allergies
arthritis
bladder infections
colitis
diabetes
ear problems

"gunky" ears
ear infections

head shaking
increased itching in the genitals
itchy feet
joint problems
kidney infections
malabsorption of food nutrients
skin irritation
yeast infections
What is the best grain free dog food?
Grain free dog food is a bit more expensive because they do not contain cheap fillers found in "the tail of the mill." But, your dog will be much healthier so you will likely recoup this cost through less visits to the vet.
The best German Shepherd dog food recipes that do not contain grain are the following:
Acana
Provincial Grasslands

Provincial Pacifica

Provincial Prairie Harvest

Orijen
Their formulas include a Biologically Appropriate ratio of (70/30/0)
70 percent meat
30 percent fruit and vegetables
0 grain

Products include:
Grain Free Adult
Grain Free 6 Fresh Fish
Grain Free Puppy
Grain Free Senior

"Cats and dogs evolved as hunters and despite a modern lifestyle, their digestive systems remain unchanged. "
High Prairie Canine Formula with Roasted Bison and Roasted Venison
Pacific Stream Canine Formula with Smoked Salmon
Wetlands Canine Formula with Roasted Fowl
Core Original
Core Ocean Formula

Core Reduced Fat
A grain free dog food can promote good health in your dog by giving them a diet closer to what nature intended.
***z-dogtimemedia300x250.shtml***

---
The information and products recommended by german-shepherd-lore.com are not intended to take the place of expert veterinarian care. Please consult with your vet and ask about using a natural and alternative approach for the healthcare and treatment of your pet. Find a holistic vet.
---