Kavik the Wolf Dog
Walt Morey Story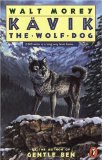 In the 1968 novel written by Walt Morey, Kavik the Wolf Dog travels 2,000 miles to find the young boy that saved his life.
Charlie One Eye raises sled dogs. He spots strong potential in one of his yellow eyed pups, part Alaskan Malamute and part wolf. "You grow up smart and tough and mean. Not mean like the wolf. Mean like Kävik, the wolverine."
He raises the dog with a heavy hand and without any affection. Two years later, Kävik leads a team that wins the North American Sled Dog Derby race in Fairbanks, Alaska. Businessman George Hunter catches the end of the race and is so impressed that he offers Charlie One Eye $4,000 for the dog.

Kävik is put on a small plane headed towards Hunter's home. But, the plane goes down in the Alaskan wilderness, killing the pilot. Miraculously, Kävik survives the crash. But, he is gravely injured and trapped in his transport cage. After three miserable days, a young hunter comes across the wreckage.

The Boy and The Wolfdog
Twelve year old Andy Evans considers putting the dog out of his misery, but one look into those yellow eyes changes his mind. Though his courage has been damaged from the crash, he is not ready to die. Andy nurses him back to health with the assistance of a local doctor. The two form a strong bond as Kävik experiences human love and affection for the first time in his young life.

Soon, Hunter finds out that Kävik is alive and well and takes the dog home. Andy is devastated and Kävik becomes homesick. Hunter, embarassed by his lack of courage, keeps him isolated in a dog run. After several weeks, he escapes and heads north to find the boy he misses so terribly.

In the wilderness, he encounters a pack of wolves. A fight with the pack leader raises his courage and wins the affecton of a female wolf. But, now he has a decision to make. Should he stay with his new found love or try to find the boy who saved his life? A hunter ends up making that decision for him.
Eventually, Kävik is reunited with Andy. Hunter finds out and wants his dog back. Andy's father offers to pay for him, but Hunter demands the price which he paid. Andy's father says the dog is not worth that much anymore. Hunter agrees and accepts a fraction of what he paid.

Later, Hunter hears about Kävik's regained courage. He is told about the dog fending off a pack of wild dogs that used to terrorize him. Can Andy keep his dog?
Kavik the Wolf Dog Movie

The movie, loosely based on the book, does not do the story justice. It does not give the viewer enough history on Kävik. It also cuts out a large part of his incredible journey and bonding with a female wolf. Produced in 2002, it is a bit cheesy, and has the look and feel of a much older movie - John Candy's even in it. The worst part was when a young lady sees Kävik and screams to her father that she saw a wolf. The problem is that the GSD who plays the role does not look much like a wolf. He looks like a German Shepherd.
Kävik the Wolf Dog is an incredible story of love and perseverance. Do yourself a favor and read the book
to get the full impact of this incredible tale.

***z-dogtimemedia300x250.shtml***

---
The information and products recommended by german-shepherd-lore.com are not intended to take the place of expert veterinarian care. Please consult with your vet and ask about using a natural and alternative approach for the healthcare and treatment of your pet. Find a holistic vet.
---