Old Mother Hubbard Dog Treats
Human Grade Dog Treats
Old Mother Hubbard dog treats are baked using natural ingredients. These natural dog treats are free of artificial colors, flavors and preservatives, bone meal, and by-products. No salt, soy or sugar is added.
Old Mother Hubbard traces its roots back to 1926 in Glocester, MA. A. Hubbard & Sons bakery made hard tack sea biscuits. A local sailor threw one to his dog who promptly gobbled it up. Dog biscuits were born.
Old Mother Hubbard Dog Treats
Come in a variety of sizes and flavors. Perfect for training or a tasty snack.

Extra Tasty Biscuits:
Bac 'N' Cheez
Chick 'N' Chedda
Liv 'R' Crunch
P-Nuttier
Gourmet Dog Treats

Assorted Bitz
Chicken Bitz
Chicken Meaties
Lamb Meaties
Liver Meaties
P-Nutty Assorted
P-Nutty With Apples
P-Nutty Assorted
Jumbo Bones

Bac 'N' Cheez
Faithful Friends
P-Nuttier
Old Fashioned Biscuits
Special Recipe Biscuits

Char-Tar (for fresh breath, easier passing of gas and to settle upset stomachs)
Couch Potato
Just Vegg'n
Gimme a Kiss
Puppy
You Are What You Eat
A simple philosophy for the owner of Wellness Natural Food & Treats for Pets. A team of animal nutrition experts formulates the healthy dog treats with recipes using 100% whole foods and human grade ingredients.
All natural dog treat biscuits are made using wheat flour. This provides better texture, high digestibility, and a crunchier biscuit. The dense biscuits are great for keeping teeth clean.
No Worries with Old Mother Hubbard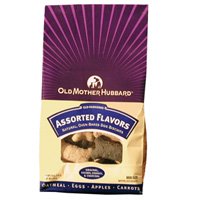 German Shepherds are notorious for having sensitive stomachs. Whenever I take her to the Pet Food store, there is always someone who wants to give my girl a treat.
Since it's usually a milk bone, I always tell them no thanks and explain her situation. Last time I was turning down treats, the gentleman that offered held out a bag of Old Mother Hubbard biscuits. I told him that she was defiitely allowed to have as many as he wanted to give her.

---
The information and products recommended by german-shepherd-lore.com are not intended to take the place of expert veterinarian care. Please consult with your vet and ask about using a natural and alternative approach for the healthcare and treatment of your pet. Find a holistic vet.
---