Pet Air Travel
Yes, you can take your German Shepherd with you.
Friendly pet air travel has recently become more and more popular as pet owners have demanded better travel options for their fur kids. Traditional airlines treat your dog like luggage. Storing them in the cargo hold is considered by most airlines as acceptable pet travel. Kennels or dog sitters are other options.

Although is is rare, traditional travel with pets on airlines is not without risk. According to the New York Times, from June - August, 2006, 12 animals (mostly dogs) died, 3 were injured and 4 were lost during air travel.
"...until I get my own private plane, my large dogs will not fly... because it's not very controlled in the areas where they put the large dogs."
~Cesar Millan (June 2007)
But, now you can take your pet with you and knowing they are well taken care of.

Pet Travel Airlines
Now you have the option to fly with your animal, or book your pet a "seat" on a pet only airline. This will ensure that your dog is not subjected to fluctuations in temperature, jet fuel fumes, and changes in air pressure.
Pet Friendly Travel
Next time your destination is too far to travel by car, consider one of the following options:
Pet Airways
A pet only airline offering first class air travel. Offering service to 9 US locations, your dog will be closely monitored throughout the flight using protocols guided by Lassie veterinarian Dr. Jeff Werber. Pet Airways will not treat your dog like cargo.

Dog Travel Company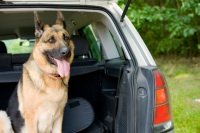 Offering travel arrangements for you and your pooch, this pet travel service will assist you in making all of your pet friendly travel arrangements. Travel by plane, train and even ship trips are available for a nominal membership fee.
Whether you are not your are traveling by car, they can also help you with pet friendly hotels and eating establishments.
Dogs feel very strongly that they should always go with you in the car, in case the need should arise for them to bark violently at nothing right in your ear.
~Dave Barry
Pet Travel
As more pet travel services become available, this list will expand as I find more resources. Dogs are members of the family. Rest assured that you can take your dog with you on vacation, instead of having to leave your faithful pet in the care of a kennel.

---
The information and products recommended by german-shepherd-lore.com are not intended to take the place of expert veterinarian care. Please consult with your vet and ask about using a natural and alternative approach for the healthcare and treatment of your pet. Find a holistic vet.
---