Questions to Ask When Choosing Your Puppy
Dog Breeder Checklist
Please first consider dog adoption from a German Shepherd Rescue.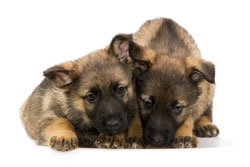 If you do decide to visit a breeder, use this checklist when choosing your puppy.
This should help you avoid a backyard breeder when you hear of puppies for sale.

Ask to see the litter's sire and dam.
In many cases you will only see the dam. The sire usually belongs to someone else.
While this is somewhat of a trick question, it will allow you to evaluate the following:
temperament of the parents
health and happiness of the dogs (and possible flaws)
how many litters are produced in a year
are the puppies on site (if not where were they raised)
type of kennel (if outdoors, look for a climate-controlled area)
cleanliness of the kennels
breeder interaction with the dogs (both in and out of the kennel)
how much interaction and socialization the puppies have experienced
amount of time the dogs are in the kennel
whether or not the dogs are allowed into the breeder's house
breed clubs the breeder is associated with
if the parents are competitively shown (and any titles they have)
pedigree of both parents
how long has the breeder produced the German Shepherd breed
has the breeder worked with other dog breeds
Find out about genetic diseases that affect German Shepherds or determine any congenital defects.
what is the breeder doing to suppress common defects in the lineage
are both parents registered with OFA (Orthopedica Foundation for Animals) Hip Dysplasia Registry - get numbers and ratings for both sire and dam
is there paperwork for tests on both parent's hips (OFA or PennHip), eyes (CERF), and thyroid
proof of puppies' vaccinations to date (or schedule for first set of puppy shots)
will the breeder allow your own vet to examine the puppy before making a firm commitment
Learn about the contract and any guarantee.
ask about the contract and any related details
are there terms that address the puppy developing a genetic disorder
what happens if the puppy dies or must be euthanized due to illness or disease
is there a spay or neuter clause
are there guidelines for potential German Shepherd breeders on testing and show requirements
is the AKC registration regular or limited
is there a return policy
Get references from past puppy buyers.
names and phone numbers of previous buyers
does the breeder still talk regularly with any previous buyers (and how many)
Determine if the breeder will help in choosing your puppy.
pick the right puppy for your lifestyle
find out when the puppies will be ready for placement and how old they will be at that time
will the breeder assist with questions or concerns after taking the puppy home
will you receive any calls to check on the puppy
will you be notified if a littermate develops unexpected temperament or disorder
Not all of these questions will apply to every situation. But, it will give you a good idea of what important things to look for when seeking your new best friend.
Take time in choosing your puppy. This is an important and long term decision. So, don't rush this step. You (and your new puppy) will be much happier in the long run.
***z-dogtimemedia300x250.shtml***

---
The information and products recommended by german-shepherd-lore.com are not intended to take the place of expert veterinarian care. Please consult with your vet and ask about using a natural and alternative approach for the healthcare and treatment of your pet. Find a holistic vet.
---