Dogs in the Military
Just a few years after the birth of the breed, German Shepherds were used as dogs in the military.
Between 1899 and 1914, Captain Max von Stephanitz (founder of the breed) wanted to demonstrate the prowess of the German Shepherd in several different areas. Dogs were donated to departments as k9 police dogs to demonstrate their strong ability in obedience, protection and tracking.
In 1914, GSDs were recommended for use by the German Army as military working dogs - ammunition carriers, guards, messengers and search and rescue. This was initially amusing to the Army. But when they heard how effectively these dogs were used by civilians, they took the suggestion seriously.
In World War I, the German Shepherd showed its ability to perform just about any assigned task as military dogs. Their courage amazed not only the German soldiers, but the American and English military as well. After the war, the soldiers discussed the heroic war dogs they had seen on the battlefield.
The German Shepherd became the first dog to guide blinded soldiers. This led to the establishment of the Seeing Eye Dog.
WWII offered the GSD another chance to shine. They excelled in working with the Red Cross, locating wounded soldiers.
Rin Tin Tin
Near the end of WWI, Corporal Lee Duncan, an American soldier, encountered a German Shepherd mother and her litter in a bombed war dog kennel in Lorraine, France. Duncan adopted two of the puppies while the mother and the rest of her litter were cared for by the battalion. The mother and litter eventually perished, with the exception of the two dogs that Duncan adopted.
Duncan was highly impressed by the ability of the German war dogs. He worked with the puppies and was eager to learn more about the breed. The German Kennel Master in charge of the bombed kennel had been captured by Americans. Duncan visited him in the prison camp and discovered much about this new breed called the German Shepherd.
He made arrangements to bring the two puppies back home to Los Angeles. Sadly, one puppy died of dog distemper. But the other flourished and became one of most beloved German Shepherds of all time - Rin Tin Tin.
When World War II broke out, Duncan wanted to serve his country. But, because of an injury sustained during the first war, he was not allowed to re-enlist. Instead, he made another contribution to dogs in the military. The first US Military K9 Corps was born.
Training Dogs in the Military
Duncan (and Rin Tin Tin III - an official soldier with his number tattooed on his leg) became head trainers for Camp Hahn, a training camp for military dogs of war in California. During the course of the war, over 5,000 dogs and handlers were trained.
After the war, Duncan took many of the returning dogs, untrained them and placed them back with the families that had donated them to the war effort. Chips the dog was donated for military use and went home a true war hero.
Walter Reed for Dogs in the Military
Lackland Air Force Base in San Antonio, TX is now home to a veterinary hospital for military dogs wounded in combat. The Military Working Dog Center offers advanced medical treatment, complete with:
CT Scanning Equipment
Digital Radiography
Intensive Care Unit
Operating Rooms
Rehab Rooms
The rehab rooms offer exercise balls and an underwater treadmill. There is also a behavior specialist.
Currently, dogs in the military that are injured in Afghanistan or Iraq receive emergency care on the battlefield. They are then flown to Germany for care. If advanced treatment is necessary, they are sent to San Antonio.
The demand for military working dogs has jumped dramatically since 9/11. Lackland is currently training 750 dogs, almost double the number that were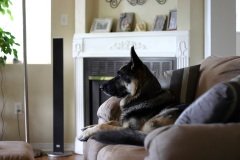 training prior to the attacks.
Military dogs normally start training at 1 1/2 - 3 years and work until they are about 10.
After their duty is finished, the military adopts them out to be stationed in "Fort Living Room," says hospital director Army Col. Bob Vogelsang.
Retirement of Military Dogs
Tragically, many dogs in the military were not sent to Fort Living Room. After the Vietnam War, only a fraction of the 4,000 Vietnam war dogs that courageously served their country were reassigned or shipped home. Many were abandoned (left with the ARVN of South Vietnam). The majority were declared "excess" and euthanized.
A Discovery Channel documentary (War Dogs: America's Forgotten Heroes)
showed the public the sad fate of these hardworking, loyal dogs in the military. This led to a large public outcry. After which, the Military pledged not to dispose of military working dogs in the same manner.
Congress eventually passed a law which allows military dogs to have an honorable retirement. President Clinton signed a bill in November 2000 (H.R. 5314) which amended title 10 of the US Code. This allowed for the adoption of retired military working dogs of war to former handlers and other qualified civilians.
Now these life saving dogs in the military can finally look forward to a comfortable and dignified retirement. If you're interested in providing a loving home for a retired military dog, fill out a Military Working Dog (MWD) Adoption Application.
For helpful hints for completing the military dog adoption process read
Another great resource is the Military Working Dog Foundation. And here is adoption information from Lackland.
Tribute to the Military Working Dog
WE FEARED NONE
My eyes have seen many things in the darkness of the night. Some of which you never saw as you held my leash so tight. I protected you, and as a team we feared none.
My ears have heard the sounds of things that made you freeze at night. You trusted me and used my pointed ears like battle sights. I protected you, and as a team we feared none.
Over the years many have held my leash. Several of which held it loose and a few who held it tight. No matter how you chose to keep me, I protected you and as a team we feared none.
I have heard the highest praise and felt the heaviest correction. Regardless the tone of your voice or the weight of your correction, I protected you, and as a team we feared none.
When evil crossed our path, I never backed down! I will fight to the end. My loyalty to you is unconditional. I protected you, and as a team we feared none.
Many years have passed. My muzzle is now full of gray. When it is time to face my final battle let me keep my pride. Know that I loved no other place than that of by your side. When it is all said and done, remember the battles that we've won. Never forget, I protected you, and as a team we feared none!
~SSgt Jennifer R. Vasquez
Dedicated to Military Working Dog Rambo #T058
(a Belgian Malinois)

---
The information and products recommended by german-shepherd-lore.com are not intended to take the place of expert veterinarian care. Please consult with your vet and ask about using a natural and alternative approach for the healthcare and treatment of your pet. Find a holistic vet.
---