Rin Tin Tin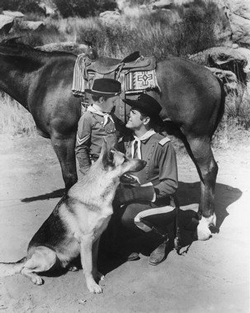 Considered one of the most famous German Shepherds of all time, Rin Tin Tin is a household name.
The offspring of Fritz de la Chasse royale and Betty des Flandres, the Rinty bloodline is also one of the oldest in the GSD's short history.
Finding Rin Tin Tin - September 15, 1918
As WWI was coming to a close, an American soldier came upon a German Shepherd and her litter of five. At just five days old, the puppies and their mother were the lone survivors of a bombed war dog kennel located in Lorraine, France.
The soldier and his battalion adopted the clan. Corporal Lee Duncan, who made the discovery, picked out two puppies for himself, a boy and a girl. The puppies were named Rin Tin Tin and Nannette (Nenette), after french puppets given to soldiers for good luck.
Ironically, these two chosen pups outlasted their mother and littermates.
Duncan spent much time with the dogs, training them to perform like the German dogs he had encountered during the war. He was so taken with them, that he located and visited the Kennel Master to find out more about this new breed of dog and to learn about Betty and the puppies he had found.
When the war ended, Duncan made arrangements to take his two puppies back home to Los Angeles with him. They boarded a ship for the two week journey to New York. During the voyage, Nanette became ill with dog distemper. Upon arrival, she was in very rough shape.
Duncan came to know Mrs. Wanner, a premier breeder of GSD's, who offered to keep Nanette in an effort to rehabilitate her. Sadly, Nanette succumbed to the disease. Mrs. Wanner sent the distraught Duncan one of her finest female pups in condolence.
A Star is Born
Duncan took Rinty with him to several dog shows. In 1922, he astounded everyone by jumping almost 12 feet during a show held by the Shepherd Dog Club of America. After the show, Charles Jones offered Duncan $350 to film the dog with his new moving picture camera. Duncan accepted and realized his dog's star potential.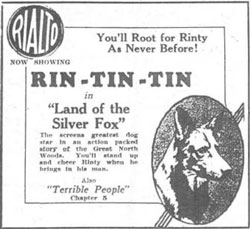 Duncan shopped nearly every Hollywood studio, but had no takers. His persistence finally paid off when he came across a studio on the verge of bankruptcy.
He found a film crew trying unsuccessfully to shoot a scene with a wolf. Duncan told them that he and his dog could wrap the scene in just one take.
They told him to leave, but eventually relented. With Rinty, the shot was complete in one take, as promised. And they were kept on for the filming of "Man From Hell's River."
Studio Rescue Dog
Rinty is credited for saving the struggling studio. Which one?
A little studio called... Warner Brothers Pictures.
The famous dog earned the nickname 'The Mortgage Lifter' by Jack Warner
The film hit the jackpot. The public adored this amazing and heroic dog. During the height of his career, he received 10,000 fan letters a week. For years, his films were the studio's main source of income. He went on to make almost 30 more pictures with Warner Brothers.
Recalled to Headquarters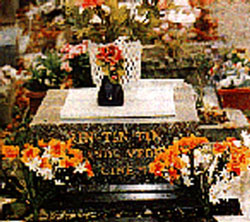 On August 10, 1932, Rin Tin Tin died unexpectedly. He was to start a new film the next week.
Devastated by his loss, Duncan eventually arranged to return his beloved dog back to France, the country of his birth.
He is buried in a renowned pet cemetery, Cimetiére des Chiens, in the Parisian suburb of Asniéres-sur-Seine.
Duncan wrote a heartfelt tribute to his beloved Rin Tin TIn:
Alert and ready for my slightest word,
Rin Tin Tin I so often watch you stand;
Eager to serve me for that high reward-
A smile, or just a light touch of my hand.

Deaf to allurements of those standing by
when I am near, and deaf when I'm away.
Forever overjoyed at my return
However brief or lengthy is my stay.

Believing in me always, tho I fail,
Your trust you gave but once, and that to me.
Your's are the qualities that men hold high,
Strength and pride and love and loyalty.

Wherever led my path you'd walk my way.
And gladly give your life my own to save.
Enduring pain and hunger, heat and cold-
And broken hearted die upon my grave.

A real unselfish love like yours, old pal,
Is something I shall never know again;
And I must always be a better man,
Because you loved me greatly, Rin Tin Tin.

"I Wish I Had a Dog Like..."
Filmography

Rin Tin Tin: The Life and the Legend
An incredibly informative book on this beloved dog was written by Susan Orlean. She chronicles his life from orphaned puppy, to movie star, to international icon for the German Shepherd dog.
Her research is very thorough. The book was initially to focus on Rinty and Duncan. She soon realized she would also need to include the producer of the TV series, and the breeder that carries on the lineage to this day.
She also includes little known facts on one of the most beloved GSD's of all time.
Rinty may have been the first ever subject to Dogscrimination.
According to Hollywood legend, Rinty received the most votes for best actor. But members of the Academy, anxious to establish that the awards were serious and important, decided that giving an Oscar to a dog did not serve that end. (The award went to Emil Jannings.) I guess you could say that the voting results were... fixed.
Did you know?
At the first ever Academy Awards in 1929, Rinty received the most votes for Best Actor. But, the members did not think a dog deserved an Oscar. Talk about dogscrimination...

The book, however, is not without some controversy. In response to book, the owner of the Trademark has pointed out some inaccuracies, including:
Rin Tin Tin VIII being credited for making appearances in CA before his date of birth
The ownership of at least one Trademark is improperly and inappropriately credited
An uncorroborated statement in the book states that Rin Tin Tin IV was not used in The Adventures of Rin Tin Tin because he was "stupid."
Rin Tin Tin II & More
An offspring named Junior (RTT II) followed in his famous father's footsteps. Though Duncan did not feel he was equal to his father in ability or structure, he vowed to continue the legacy.
The studio put them on the road for apromotional tour. During that tour in 1933, Junior became the first dog to fly by commercial air. Like his father had done, he captured the hearts of many fans.
Duncan was so devoted to his dog that his wife filed for divorce naming Rin Tin Tin as co-respondent. The published report stated her feeling that Duncan loved the dog more than he loved her. The case was later dropped and the divorce not granted.
When WWII broke out, Duncan wanted to contribute, but was limited by an injury. Instead, he started a training camp for dogs in the military. Over 5,000 dogs and handlers were trained by Duncan and Rin Tin Tin III for the war effort at Camp Hahn in California.
The Legacy Continues
Many people approached Duncan about obtaining pups from his famous dogs. He only found one person with the dedication needed to uphold the lineage.
Janettia Brodsgaard Propps requested a puppy for her breeding program. She ultimately obtained four dogs from Duncan. And received his approval to continue the line.
Duncan passed on September 20, 1960. But the future of the Rinty line was left in good hands with Ms. Propps and Bodyguard Kennels. She continued to breed with the primary attributes of intelligence and sound working structure.
<!–INFOLINKS_OFF–>
Though Duncan preferred the light silver grey color, as it was more easily seen on black and white television, he did not discriminate on the basis of coat color. Several white dogs were in his breeding program as they were judged primarily on ability.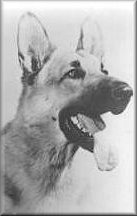 The temperament of the dogs was showcased by the fact that the two security companies which utilized Rin Tin Tin dogs were the only two in TX that had never had a complaint filed against them.
Ms. Propps passed on December 17, 1988 and her granddaughter, Daphne Hereford took over and maintains the strong lineage today. Dogs are placed on a strict spay/neuter agreement to protect the integrity of the lineage and the name.
Miss Hereford was the first to trademark the name Rin Tin Tin in 1993 as Duncan had never done so. She also bought the domain names rintintin.com and rintintin.net. There continues to be a controversy over the Rinty trademark.
"I have a working knowledge of the bloodline that will continue to produce dogs both Lee Duncan and my grandmother would be proud of as they are a true tribute to their namesake and identical in every way to them.
"There Will Always Be a Rin Tin Tin!" says Miss Hereford.