Innova Pet Food - Human Grade Ingredients
Proctor and Gamble Products
The below review on Innova pet food was written prior to June 1, 2010. This was a sad date in the history of natural pet food. It marks the day the purchase of Natura Pet Products was finalized by Proctor and Gamble.
Given this turn of events, I no longer recommend any pet food in the former Natura Pet Products line. I firmly believe the quality of the ingredients will suffer. Similar to the way Iams and Eukanuba deteriorated once they were acquired by P&G.


---

No By-Products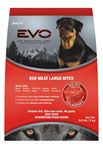 This alone makes Innova Pet Food one of my absolute favorites. Don't feed your dog food that contains meat by-products.

You may be amazed at what this includes.
Natura Pet Products
Natura Pet Products are made from human quality fresh meats, whole grains and all-natural fruits and vegetables. Complete with vitamin and mineral supplements.
In addition to Innova, their brands include:
EVO
California Natural
HealthWise
Mother Nature
Karma
The ingredients are hormone, antibiotic and pesticide-free. And they never add artificial ingredients, chemical additives, by-products or fillers.
Their pet food is carefully cooked and quality tested to ensure consistent nutrition, taste and texture.
Natura provides an informative chart How to Choose a Healthful Pet Food. This shows you what ingredients to choose and which ones you should avoid for proper canine nutrition.
Quality Over Quantity
High quality food does cost a bit more. But, by avoiding cheap filler and low quality proteins common in commercial pet food, your dog will not eat as much of it. Natural pet foods are much more dense and full of nutrients with no added bulk. So, your pet gets more nutrition from less food.
The only thing I noticed with Innova dog food is that my German Shepherd puppy prefers the taste of canned Wellness Pet Food over the canned Innova.
In comparing the dry food, she seems to like the Innova better than Wellness.
Choose the large breed puppy, adult or senior formulas for your German Shepherd.
For a list of the best dog food formuals, read Top 10 Dog Foods.
***z-dogtimemedia300x250.shtml***

---
The information and products recommended by german-shepherd-lore.com are not intended to take the place of expert veterinarian care. Please consult with your vet and ask about using a natural and alternative approach for the healthcare and treatment of your pet. Find a holistic vet.
---