Long Haired German Shepherd
German Shepherds can vary widely in coat color and length. Long haired German Shepherds are commonly seen in Europe serving as working dogs.
What is A Coated German Shepherd?
A GSD with hair longer than the breed standard is considered a long haired German Shepherd. Also called a coated German Shepherd.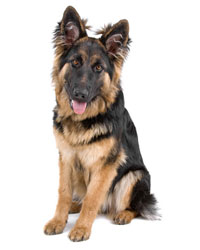 Long coat German Shepherds are considered a fault, according to the AKC breed standards and International (FCI) standard. Apparently this is due to the lack of an undercoat which decreases the weatherproofing found in a traditional short coat.
The gene that produces a long hair German Shepherd is recessive. Should two short hair shepherds produce a long haired GSD, then they both carry this recessive gene. Some call this the "coat factor" gene.
In order for a pair of short coated GSDs to produce long coated German Shepherd puppies, this gene must be present in both the sire and the dam.
German Shepherds Long Haired vs Short Haired
Unless you plan to show your dog in conformation trials, there really is no difference in long coat German Shepherds versus their shorter haired counterparts.
It does not affect or hinder their ability to perform any task. In fact, many European working dogs sport a long coat.
The lack of an undercoat does not appear to let water penetrate. Long hairs appear to deflect wet weather just as well.
The only disadvantage is that they will need to be groomed more so than a short haired GSD. Longer hair can pick up more dirt, burrs, etc.
A long haired GSD can perform any task as well as a short haired GSD. Neither coat color or hair length should not be a deciding factor when getting a German Shepherd.

---
The information and products recommended by german-shepherd-lore.com are not intended to take the place of expert veterinarian care. Please consult with your vet and ask about using a natural and alternative approach for the healthcare and treatment of your pet. Find a holistic vet.
---