Protection Dog Training - Schutzhund
What is Schutzhund?
Schutzhund is a German word that means "protection dog." Training your dog in Schutzhund has many benefits for both you and your faithful companion.

Also called "hundesport" or VPG (Vielseitigkeitspruefung für Gebrauchshunde - 'versatility test for working dogs'), it demonstrates a dog's intelligence and utility.

It measures a dog's:
ability to scent
courage
endurance
mental stability
structural efficiency
trainability
willingness to work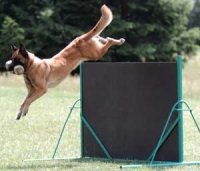 Protection dog training began in the early part of this century as a test for working dogs. The initial purpose was actually to determine which dogs to use for breeding and those with true working ability.
Dogs of other breeds (Giant Schanuzers, Doberman Pinschers, Rottweilers, etc.) are also actively involved in the sport.
German Shepherd Protection Dogs
While other breeds are trained in dog protection, the breed evaluation test was developed specifically for the German Shepherd Dog. In fact, a German Shepherd's offspring will not be eligible for registration in its native land without obtaining the first level - SchH1 1.
The sport has three parts:
tracking
obedience
protection
Protection dog training offers an opportunity for you to train your dog and compete with others. It recognizes both your ability to train and your dog's performance of commands. Many people of various ages and professions participate in competitions. Including those with significant disabilities. It builds camaraderie and is often a family sport.
Three titles
There are three different Schutzhund titles:
1 (SchH1)
2 (SchH2)
3 (SchH3)
German Shepherd Protection
& The Importance of Socialization
SchH1 is the first title. Before your dog can obtain SchH1, it must first pass a temperament test. This is called a B or BH (Begleithundprüfung - "traffic-sure companion dog test"). This is a basic test of obedience that measures behavior around strange dogs and people, loud noises and traffic.
If your dog shows aggression, distraction or excessive fear, she cannot pass the B test and will not be able to compete. Yet another good reason to make sure your German Shepherd has passed basic dog obedience training and is properly socialized.
Consider getting your German Shepherd involved in "hundesport." Your dog will feel like she has a job and become a happier companion.
And it will strengthen the bond between you and your best friend.
***z-dogtimemedia300x250.shtml***

---
The information and products recommended by german-shepherd-lore.com are not intended to take the place of expert veterinarian care. Please consult with your vet and ask about using a natural and alternative approach for the healthcare and treatment of your pet. Find a holistic vet.
---