German Shepherd Dog Growth
If you have a German Shepherd puppy, you probably want to know what to expect in terms of dog growth and puppy stages.
German Shepherd Growth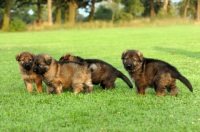 German Shepherd size depends on many factors, such as genetics, bloodlines, nutrition and exercise.
Here are common questions on German Shepherd growth and development.
How Big Do German Shepherds Get?
This is by far the most asked question regarding this breed. Dog growth questions are asked in a variety of different ways.
how big does a german shepherd get?
how heavy can a german shepherd get?
how much do adult german shepherds weigh?
how tall is a german shepherd standing up?
if my german shepherd weighs 65 lbs at 9 months how much full grown?
According to the International FCI breed standards:
Males

Wither height: 60 - 65 cm (23.62 - 25.59 inches)
Weight: 30 - 40 kg (66.14 - 88.18 lbs)

Females

Wither height: 55 - 60 cm (21.65 - 23.62 inches)
Weight 22 - 32 kg (48.5 - 70.55 lbs)
The AKC breed standards are a bit different:
Males

Shoulder height: 24 - 26 inches
No weight provided

Females

Shoulder height: 22 - 24 inches
No weight provided
While you will see dogs that are heavier than the International standard, the GSD was designed to be a medium sized dog.
You may be wondering, 'how do I bulk up my German Shepherd?' The answer is to let her develop on her own. Feed her a quality dog food with real meat as the first ingredient. Preferably, find one in the list of top 10 dog foods.
Provide regular exercise, being careful not to overdo it. While your puppy is growing, you do not want to put weight on too quickly. Her bones are still growing and her joins may strain over quick weight gain.
German Shepherd Growth Chart
See the German Shepherd growth chart for more details. You can also share your own puppy's growth progress.
Keep in mind, this chart is based on FCI (International) standards. Your GSD may or may not fit exactly into these growth stages, especially if she is from show lines.
The puppy growth chart walks through puppy development and puppy stages to give you a good idea of her progress.
***z-dogtimemedia300x250.shtml***
---
The information and products recommended by german-shepherd-lore.com are not intended to take the place of expert veterinarian care. Please consult with your vet and ask about using a natural and alternative approach for the healthcare and treatment of your pet. Find a holistic vet.
---