German Shepherd Growth Chart
How big will my German Shepherd get?
Here you will find a chart showing the German Shepherd Dog FCI Standard. Along with hundreds of submissions from others lucky enough to be owned by a GSD.
Keep in mind that dog growth can be affected by genetics and environment, so take that into consideration when comparing your pup to the data in the German Shepherd growth chart.
What is the normal size of a German Shepherd puppy?
A German Shepherd dam will normally whelp (give birth to) between six and eight puppies. While there are exceptions, at this litter size, the puppies will normally be about 1% of the mother's pre-pregnancy weight.
Puppy Growth Chart
A healthy large breed puppy will normally double her birth weight during the first week. This is followed by a consistent weight gain of 5-10%. And moderates to an ultimate weight of around 70 times the puppy's birth weight. Check the puppy growth chart for an explanation of the different puppy development stages and puppy growth rate.
German Shepherds normally reach physical maturity at 18-24 months. Curiously, some Eastern European lines mature more slowly and do not reach full maturity until 36 months of age. Their growth rate slows noticeably at 6 months and continues minimally after 12.
Puppy to adult in 40 seconds
Here is a great time lapse video that shows GSD Dunder's growth from 8 weeks to 1 year.
Time lapse puppy in year 2
German Shepherd Dog Height & Weight Standards
Males:
Height at the wither 60 cm to 65 cm (23.62 inches - 25.59 inches)
Weight 30 kg to 40 kg. (66.14 pounds - 88.18 pounds; Midrange = 77 pounds)
Females:
Height at the wither 55 cm to 60 cm (21.65 inches - 23.62 inches)
Weight 22 kg - 32 kg (48.5 pounds - 70.55 pounds; Midrange = 59.5 pounds)
(Length of torso exceeds height at the withers by 10-17%.)
Ref.: German Shepherd Dog F.C.I. Standard, MO. 166/23.03.1991/D

German Shepherd Growth Chart by Weight & Age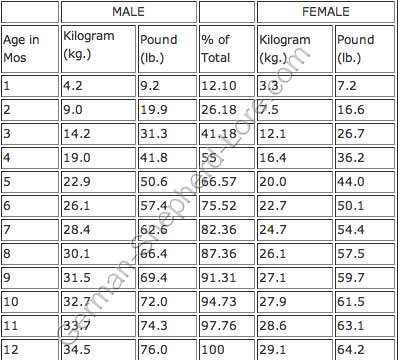 Again, these are approximations and your own puppy growth chart may not absolutely reflect these numbers. If you have any doubt that your puppy is not changing according to the above German Shepherd growth chart, the best thing to do would be to contact your trusted vet.
If you are providing adequate exercise and quality dog food, your German Shepherd's dog growth should be normal and she will have no trouble reaching her full potential.
Not sure if you're feeding your GSD enough? Check out this breed specific dog food calculator to make sure.

Is your GSD growing by the numbers?
Not all German Shepherds will follow the FCI growth chart exactly. How is your pup progressing?
How does my pup compare to other German Shepherd puppies?
Click below to see more German Shepherd puppy growth stories...