Dog Health Care Questions
In the course of owning a GSD, you may have many dog health care questions.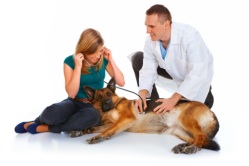 Dog Medical Questions
If you have a dog medical question, it is normally best handled by your trusted vet.
But, if you have a non-emergency, use the form below and you should receive an expert reply in just a few hours.
Dog Health Questions and Answers
How to treat German Shepherd upset stomach
German Shepherds are known for having sensitive stomachs. Once in a while, my GSD will eat something that does not agree with her.
Can you give a dog Pepto Bismol?
It is always best to check with your vet before giving any over-the-counter meds. My vet has said it is ok to give her a Pepto Bismol on these occasions when she is vomiting or has diarrhea.
The Pepto Bismol dosage for dogs is 1 teaspoon for each 20 pounds of body weight. This can be given every 4-6 hours. I give my GSD one children's Pepto chewable and that usually does the trick.
Be aware that Ibuprofen and Tylenol are deadly to dogs and Pepto Bismol is toxic to cats.
Dog Care Questions
If you have a questions relating to German Shepherd care, you can use the form below to submit your question. I will research the answer and it will be posted on this page to help others.
Do You Have a Dog Care or Medical Question?
Tell us about it and we'll find the answer.
What Other Visitors Have Asked
Click below to see questions asked by other visitors to this page...

***z-dogtimemedia300x250.shtml***

---
The information and products recommended by german-shepherd-lore.com are not intended to take the place of expert veterinarian care. Please consult with your vet and ask about using a natural and alternative approach for the healthcare and treatment of your pet. Find a holistic vet.
---