Dogs Reported Lost
How Do I Find a Lost Dog?

I lost my dog!
What were the circumstances behind her disappearance? Dogs reported lost typically fall into one of the following categories.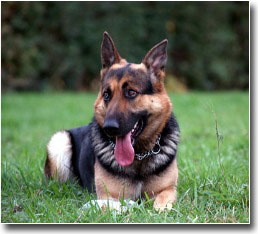 Lost dog behavior can give you a head start in finding your best friend.
Dogs reported lost typically exhibit one of the following behaviors:
The Opportunity Presented
Some dogs will take an opportunity to bolt when one presents itself. A door or gate left open may provide enough temptation to explore the world outside of the home or yard. These dogs may not be actively attempting to escape. But, they will follow their nose to investigate any enticing scents not found in familiar surroundings.


A Desire to Wander
Some breeds of dogs and most intact males will make a continuous effort to escape. They will climb over or dig under fences to get out. Either out of boredom or an instinctual urge to mate. They may also escape from an open door or gate, but they are actively focused on escape. Intact males that roam are a major contributor to the overpopulation of dogs.


Blind Panic
Dogs, like humans, have a fight or flight instinct. If your dog is skittish by nature, scared of loud noises or involved in a traumatic incident, she may take off in a panicked run. This is the most difficult of the three situations to handle as this dog will likely run fast and far. They are also likely to avoid human contact, both with strangers and their own family.


Accidental or Intentional
Dogs can also become lost accidentally or intentionally. Perhaps you took your dog on a trip and it disappeared at a rest stop, campsite, or other unfamiliar place. She may be trying to make her way back toy, or she is distracted by exploring wilderness or other new scents. Hopefully, she was not taken on purpose, where she will likely be in a stranger's house.

Determining the events surrounding the disappearance is the first step in finding dogs reported lost.
Missing Dog or Pet? LostMyDoggie.com will find your missing pet by quickly calling all your neighbors.

---
Missing Pet Partnership's website (www.lostapet.org) lists lost pet recovery tips based on the analysis of lost pet behavior.
Kathy "Kat" Albrecht is a former police detective-turned-pet detective and author of The Lost Pet Chronicles: Adventures of A K-9 Cop Turned Pet Detective
. Kat is the founder of Missing Pet Partnership and is the CEO of Pet Hunters International the first ever pet detective academy that trains and certifies technicians and search dogs to track lost pets.

---
The information and products recommended by german-shepherd-lore.com are not intended to take the place of expert veterinarian care. Please consult with your vet and ask about using a natural and alternative approach for the healthcare and treatment of your pet. Find a holistic vet.
---