Famous Dogs
The German Shepherd is a young breed. Despite this fact, many famous dogs are GSDs. The breed's storied history goes back just over 100 years.
But during that time, several famous dogs in the breed have made names for themselves.
The German Shepherd Dog

The stately German Shepherd
Protective, bold and smart,
Looked into my eyes one day
And quickly stole my heart.

Courageous and endearing,
A favorite of its breed,
So proud and yet so loving,
A steadfast friend indeed.

Caring disposition,
Faithful to the core-
If you have a Shepherd's love,
You cannot want for more.

~Unknown
Admired by people from all walks of life, famous dogs in the German Shepherd line include:
Bullet was a German Shepherd dog owned by Roy Rogers and Dale Evans. He was a family pet that also starred as himself in the "Roy Rogers Show." Bullet, along with a golden palomino named Trigger, were featured in more than 100 movies and The Roy Rogers Show.

The loyal dog was always getting Roy out of sticky situations. The show actually started on the radio, before moving to TV where it ran from 1951-1957.
See Roy Rogers' Bullet and Trigger in Wild Horse Roundup
Champ is Vice President Joe Biden's dog. The VP has been owned by several German Shepherds in the past and will be accompanied by the pup, named by his grandchildren, in the Vice Presidential Mansion.
Chips the dog was a German Shepherd / Collie / Husky / mix and the most decorated dog from WWII. Injured while saving the lives of soldiers, he was awarded the Silver Star and Purple Heart for his courageous and heroic actions.
Clipper was former US President John Kennedy's dog. The German Shepherd was a strong protector of Jackie. When asked by the press what Clipper liked to eat, she replied, "Reporters."
Major was Franklin D. Roosevelt's dog. This famous German Shepherd actually ripped the pants off of Ramsay MacDonald, the British Prime Minister. Ironically, this occurred just as Britain was preparing to go to war with Germany.
Military K9 Fluffy was a full breed German Shepherd turned over to US Special Forces by Kurdish soldiers in Iraq. The scrawny dog had been abused by the Iraqi military but became a well trained sentry dog, protecting US soldiers in Operation Iraqi Freedom. With the help of Vietnam war dog handlers, Fluffy was able to enjoy his well deserved retirement in the United States.
Nubs the Mutt, a wild stray found in Iraq along the Syrian border bonded with Marine Brian Dennis. The dog suffered a serious injury and Dennis nursed him back to health. Dennis was relocated, but Nubs was so taken with his Marine that he trekked 70 miles through the desert to find his best buddy.
Rin Tin Tin and descendants have delighted and entertained worldwide audiences for over 80 years. Rin Tin Tin is still one of the most famous dogs and recognized names in German Shepherd Dog history. The Rinty line is the oldest continuous bloodline in the history of the breed.
A recent movie called Finding Rin Tin Tin does not include dogs from the original Rinty line. Loosely based on the story of Rin Tin Tin, it has caused a bit of controversy with the owner of the Rin Tin Tin trademark.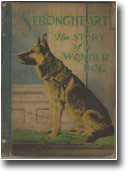 Though not as well known, Strongheart actually paved the way for other famous dogs such as Rin Tin Tin. He was the first GSD to appear in motion picture movies. A former k9 police dog, he was an excellent judge of character. He and his descendants also captured the hearts of many viewers.
He has a star on the Hollywood Walk of Fame, and Strongheart dog food (although not the best dog nutrition) is still made to this day.
Other famous dogs of the German Shepherd breed owned by celebrities include:
Angel - Actor Chuck Norris
Atticus - Actor Jake Gyllenhaal
Happy - Fitness Guru Jack Lelanne
Ork - Singer/Songwriter Amy Grant
Orso - U.S. General H. Norman Schwarzkopf
Prince - Actor Rudolph Valentino
Tim - Singer/Songwriter Shania Twain
Famous Dogs - Unsung German Shepherd Heroes
While many are not considered famous, dogs such as the amazing German Shepherds mentioned below have performed heroic and lifesaving duties.
And I am sure if you were to ask those involved, they would absolutely refer to them as famous dogs.
Famous Dogs - GSD's

Brit
Brit won several awards such as:
Apprehension Citation in 1997 from the Saddle River P.B.A.
Unit Citation in 1995 by the Waldwick Police Chief
Certificate of Recognition in 1994 by the Allendale and Waldwick P.B.A. for burglar apprehension
Exceptional Duty Award in 1998 by the Allendale and Waldwick P.B.A.
Support Services Award by the Ho-Ho-Kus P.B.A.
On October 6, 1997, Brit died and was given a full police funeral. On October 21, 1998, Sgt. Litchult received a posthumous K-9 Service Award for K-9 Brit from the American Police Hall of Fame & Museum in Miami, Florida.
New Jersey Task Force One
2001 - New York, New York. The team received an award for their search and rescue efforts during the WTC disaster. These famous dogs fearlessly searched through burned debris, ignoring burnt paws, cuts and other obstacles to look for survivors and victims. For their unselfish and courageous efforts, the team earned induction into the Animal Hall of Fame.
This team of famous dogs consists of "Ana" Atlas; "Senta" Bacalaglu; "Claire" & "Blitz" Clemmo; "Chewbacca" Holmes; "Mikey" & "Osa" LoPresti; "Nutmeg" & "Sarge" Pittore; "Argus" Rolando; "Quest" Sullivan; "Piper" Whynman Owners -- Sarah Atlas; Dan Bacalaglu; Lorrie Clemmo; Alice Holmes; Laura LoPResti; Spring & Pat Pittore; Bob Rolando; Penny Sullivan; Sonny Whynman
Thunder
1996 - After following a robbery suspect across a frozen river, the ice gave way and Deputy Stanley Wontor fell under the ice. He yelled "pull" (a command his police dog had not been trained to use) and Thunder pulled him to safety from the icy depth.
Pascha
1995 - Oklahoma City, OK; Kobe, Japan; Edison, NJ; Panama City, FL - Recognized for his work as a rescue dog in the bombing, earthquake, explosion, and Hurricane Opal.
Bruno
1995 - Brooklyn, Newfoundland. Nine month old Bruno saved the life of an 11 year old child. Donnie Skiffington was thrown from his bicycle and fell into ditch, where he laid unconscious and bleeding severely. Bruno licked Donnie's face until he regained consciousness. And began to pull him by the shirt collar towards home.
Nellie
1994 - Vienna, Ontario. Six year old Nellie traveled 3 km to get help for Ken Emerson, a 78 year old Ken Emerson, who was injured with a crushed pelvis after his tractor overturned. When Nellie arrived at home, Mrs. Emerson saw a strip of her husband's shirt wrapped around Nellie's collar and immediately knew he needed help.
Sam
1994 - Mississauga, Ontario. 8 year old Sam saved owner, Phyllis McLeod, from drowning when she fell through a frozen river. While fighting the swift current, she grabbed Sam's collar until she was pulled far enough out of the water to scramble to safety.
Hustler
1992 - Mirror, Alberta. 3 year old Hustler saved the life of his owner, Debbie Inions. After a fall from her horse left her injured and unable to move, Hustler repeatedly fought against vicious attacks by two preying coyotes for 9 hours until they were discovered.
Tracker
1992 - Sudbury, Ontario. 10 year old Tracker, owned by Sergeant Larry Bigley, was the inspiration behind the Service Dog of the Year Award. Over the seven years that Tracker served in the Sudbury District, he was involved in approximately 500 searches for missing persons, criminals, drugs and security details.
Dick
1989 - Montréal, Quebec. 4 year old Dick, a police tracking dog owned by the Suretdu Quebec, was honoured for his bravery during a 14-hour manhunt through the woods. He was wounded by a shot intended for his handler. This left him permanently blind in one eye and deaf in one ear.
Wolfey
1985 - Ancaster, Ontario. Wolfey aroused his owners, Dr. and Mrs. John Holbrook, and alerted them to a fire that had started in their all-wood home.
Maude
1983 - Pictou County, Nova Scotia. Maude, a German Shepherd, owned by Deborah Johnston and Bernard Chisholm, saved a three-year-old girl from drowning in the frigid waters of Pictou Harbour. Gripping the child's overalls in her teeth, Maude pulled the child out of the deep water.
Lance
1981 - Kitchener, Ontario. Police dog Lance tracked a missing woman in a swampy conservation area for 3 hours, leading her painstakingly through the dark woods to safety.
Daisy
1980 - Ottawa, Ontario. Daisy saved her owner's 3 year old son, David, after he wandered into a busy intersection. Daisy pulled the child to safety, while two motorists watching the dog and child in the intersection collided.
Mr. Baggins
1976 - Revelstoke, British Columbia. Mr. Baggins who had no tracking experience, located a 6 year old boy. He had been missing for hours after being buried under a snowbank.
Timmy
1973 - Brantford, Ontario. 4 year old Timmy protected his owner, Anne Nemes, from being robbed at gunpoint by two men. As the men confronted her, Timmy leapt at them and gripped one of the men's arms. A shot was fired, the men fled and Mrs. Nemes and Timmy continued their walk home.
Rex
1971 - Paris, Ontario. Repeatedly threw himself against the door leading to the Misic and Zegarac families' living quarters. This awoke the two families during the night as fire engulfed their gas station and living quarters above.
Kanaka
1970 - Ontario. Following years of distinguished service as a KP, he tracked a lost hunter for 20 hours across freezing swamps and an ice-covered lake. After finding the man, he required medical attention and was commended with saving the hunter's life.
Orient
After graduating from the Seeing Eye Program, Orient was placed with Bill Irwin. Orient led Irwin on an incredible journey throughout the complete length of the Appalachian Trail from Georgia to Maine. This timeless story of courage, faith, and a triumphant spirit portrays the first "blind" person to finish the Appalachian Trail.

Irwin's inspiring book, Blind Courage, profiles Orient's faithful and unconditional assistance for over nine years.
These are just a few famous dogs that happen to be German Shepherds. GSDs perform life-saving work everyday, so the list is ever growing.

---
The information and products recommended by german-shepherd-lore.com are not intended to take the place of expert veterinarian care. Please consult with your vet and ask about using a natural and alternative approach for the healthcare and treatment of your pet. Find a holistic vet.
---