Nubs the Mutt and the Marine
Once ordained a fighting dog, Nubs the Mutt, an abused wild stray, befriended a soldier and traversed 70 miles across the desert to find him.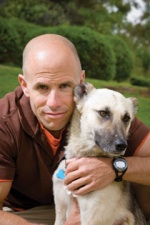 They met in the Al-Anbar Province, Iraq, in October 2007. Major Brian Dennis, a St. Petersburg native, befriended Nubs the mutt, a dog whose ears had been savagely cropped.
Dennis was the leader of a border transition team along the Syrian border. Nubs lived among a pack of wild dogs of Iraq.
Iraqis normally allowed packs of dogs to live near their forts as they served as effective early warning systems. Nubs befriended the Marines, and took a particular liking to Dennis. When he saw the Marine, he would jump up on him, before lying down, allowing Dennis to scratch his belly.
Dennis wrote family and friends about Nubs the mutt whom he had befriended in the desert. His roommate in San Diego, Major Chris Collins, received emails that spoke of Dennis' life in Iraq but they always mentioned the tough little dog. "It seemed that something bad would always happen. He'd get into a fight or something. Nubs was always in bad shape."
In emails to his mother, Dennis wrote that he was dumfounded that the ears of the German Shepherd / Collie mix were purposely cut off by an Iraqi soldier. Apparently to make him "tough and more alert."
Iraq Dog and Soldiers Bond
The dog Nubs and Marine would encounter each other every two weeks, when they patrolled the border area. Nubs would walk alongside Dennis when he went on patrol.
"I'd get up in the middle of the night to walk the perimeter with my weapon and Nubs would get up and walk next to me like he was doing guard duty."
A bond formed between them. Dennis fed Nubs scraps from his field rations of MRE's (meals ready to eat). "I didn't think he'd eat the Pop Tart, but he did."
"Every couple of weeks, we'd go back to the border fort and I'd see Nubs every time. Each time, he followed us around a little more."
Whenever they left, Nubs would run alongside with their vehicles. Dennis describes him as one of the fastest dogs he'd ever seen. "We're going forty miles an hour and he'd be right next to the Humvee. Eventually, he'd wear out, fall behind and disappear in the dust."
Life Threatening Injury
After two months had passed, Nubs was dealt another rough hand. In December 2007, during a routine patrol, Dennis encountered a severely injured Nubs. Stabbed by a screwdriver by an angry Iraqi soldier, the dog had a large, gaping, pus-filled wound on his left side. Dennis did not think Nubs would make it.
The Marines pulled out their battle kits and helped Dennis care for Nubs. They poured antiseptic on the wound and fed the dog antibiotics covered in peanut butter. Dennis slept next to the dog that night to keep him warm.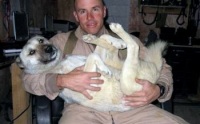 "I really expected when I woke up for watch he would be dead," Dennis wrote. "Somehow he made it through the night."
The next day, they had to leave. When they returned two weeks later, Dennis was surprised to find Nubs alive and well.
On to Jordan
Shortly after the injury, Dennis was ordered to move the squadron 70 miles south, along the Jordanian border. During their departure, Dennis saw Nubs, once again running alongside their Humvees, but figured that was the last time he would see him.
Though the dog lost sight of the Humvees, he never gave up. The wounded Nubs trekked 70 miles across the desert in 18 degree weather, to search for his best friend. For the next two days, he endured freezing temperatures and packs of wild dogs and wolves to locate his buddy.
Forty eight hours later, Dennis was inside the Iraqi Battalion Headquarters when he was told by one of his team members, "You're not gonna believe who's outside." Dennis, expecting a person, asked, "Who's out there? Send him in." The Marine replied, "Nubs is outside."
Dennis couldn't believe it. "I go running out there and he just jumps up on me and was going crazy," Dennis said.
But the journey had taken its toll. "There he was, all beaten and chewed up. When he arrived, he looked like he had been through a war zone."
Most of the 80 some soldiers at the base welcomed Nubs the mutt. They even built him a doghouse. But a couple of soldiers complained and Dennis was told to get rid of the dog. He was given four days, or the dog would be shot. Fearing for the safety of his best friend, Dennis set out on a mission. Send Nubs to the USA.
"Nubs was going to America. This dog had been through a lifetime of fighting war, abuse... had tracked our team over 70 miles of harsh desert [and] was going to live the good life."
He sent an email plea to raise funds to bring Nubs the mutt to the USA. The email campaign criss-crossed over several continents. "The response was overwhelming," Dennis said. "So many people wanted to help. It was pretty cool." More than $3,000 was raised to help save Nubs.
A brother of the squadron's interpreter had the dog sent to Jordan where a family temporarily took care of the dog. He was checked out by the King of Jordan's vet. Shortly after, he was flown to Chicago and then on to San Diego, where friends of Dennis picked him up.
A colleague of Dennis, Capt. Eric Sjoberg and his wife, knew nothing about the dog except that he loved unfrosted strawberry Pop-Tarts. They took him in and helped Nubs adjust to a radically different lifestyle.
A month later, Dennis returned home to San Diego. He boarded a bus for Camp Pendleton, half afraid that Nubs the mutt wouldn't remember him. He needn't have worried. "Nubs went crazy. He was jumping up on me, licking my head."
Dennis and Nubs on the Today Show
An Incredible Story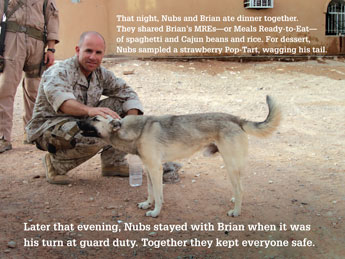 The incredibly touching story of Nubs the mutt is told in a children's book.
Nubs: The True Story of a Mutt, a Marine & a Miracle
The story has received quite a bit of attention with Dennis having appeared on the Today Show, the Ellen DeGeneres show and on Conan.
Kudos to Ellen DeGeneres, co-owner of Halo dog food, for donating a lifetime supply of quality dog food. No more foraging for scraps.
And special thanks to PETCO
for donating $15,000 to Dennis to help with housing expenses.
Nubs the Mutt & the Marine. Was it Destiny?
"I don't know about that. It's been a strange phenomenon. It's been a blessing."
His mother, Marsha Cargo, feels like Nubs is Dennis' guardian angel and vice versa. "I just can't believe it. Out there in the middle of nowhere these two find each other," she said.
"A lot of soldiers and Marines end up connecting with dogs out there. I heard from a lot of people who've been in Vietnam and even World War II. I guess it's an escape.

People who are dog people, they just get it. The dog comes running up to you with his tail wagging. It was an escape from the drudgery, the mundane life out there, the bad things you see at times. It was an escape and now it's a friend."
Watch a video introduction to this touching story

---
The information and products recommended by german-shepherd-lore.com are not intended to take the place of expert veterinarian care. Please consult with your vet and ask about using a natural and alternative approach for the healthcare and treatment of your pet. Find a holistic vet.
---