German Shepherd Training
German Shepherd training and proper socialization is a must for your German Shepherd.
Training German Shepherds
Early socialization, positive reinforcement and dog training treats are all very helpful in training German Shepherds.
Training a German Shepherd Puppy
German Shepherds require lots of attention and exercise. They are bold, determined and smart. This disposition does not make them ideal for first time dog owners. If you are unable to exercise patience, a GSD may not be for you. They may test your boundaries by misbehaving or ignoring commands already learned.
In training a German Shepherd Puppy, make sure you start with the basics:
It is very important to properly train, socialize and exercise German Shepherds. They were bred to be working dogs, and are happiest when they have a job. And they love to learn new things.
Basic Dog Obedience Training
German Shepherds are very smart, showing a high level of dog intelligence, and can generally learn tasks within 2 to 10 repetitions. Since they learn so quickly, it is easy to teach them bad habits if you are not careful. Provide leadership, rules and structure, or your dog will make her own rules.
Since the GSD is so intelligent, she has the ability to find ways to avoid doing what you ask. Contrary to popular belief, the most intelligent breeds are not the easiest to train. My GSD will follow commands, but sometimes "talks back" before doing so.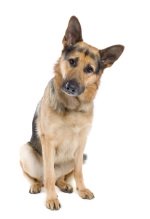 Do You Speak Dog?
You can say any fool thing to a dog, and the dog will give you this look that says, 'My God, you're RIGHT! I NEVER would've thought of that!'
~Dave Barry
Proper German Shepherd training allows your dog to speak your language. Dogs communicate mainly through dog body language.
There are many different collars you can get that will help you better communicate with your GSD.
Programs for Training German Shepherds
German Shepherd training tips are offered in a free 6 day ecourse. Start your GSD training on the right foot and sign up for free dog obedience training.
There are also several other guides for German Shepherd dog training:
Secrets to Dog Training
A comprehensive training resource for German Shepherds, this book covers the basics, as well as more advanced German Shepherd training tips. Find out more in the guide written by seasoned dog trainer, Daniel Stevens' Secrets to Dog Training.
Online Dog Training Video
Dove Cresswell is a Hollywood dog trainer and has compiled a video series to help dog owners get results fast. In front of the camera, the dogs she trains must get it right the first time... and in several takes. Watch and learn Online Dog Training Video.
Basic Dog Obedience
Basic dog obedience training classes taught by a knowledgeable instructor are extremely helpful for creating the environment your dog needs. Consistency and positive reinforcement work best for all training techniques with German Shepherds.
German Shepherd Training Tips
Did your GSD come with an owner's manual? Mine didn't either.
If you've never owned a a dog of this breed, or even if you're an experienced owner, the German Shepherd Handbook is a very good read. It contains a variety of German Shepherd training tips.
German Shepherds must be raised carefully, with a consistent and balanced hand. Learn how to properly train and care for your German Shepherd. Or they will end up making their own rules and training you.
Ask the very beasts,
and they will teach you
~Book of Job


---
The information and products recommended by german-shepherd-lore.com are not intended to take the place of expert veterinarian care. Please consult with your vet and ask about using a natural and alternative approach for the healthcare and treatment of your pet. Find a holistic vet.
---