Arrow 1.5 year old Rescue Dog Mixed with What?
by Mark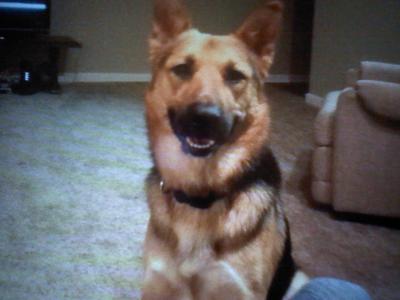 Arrow, my German Shepherd Mix
His name is Arrow. He was rescued from a high kill shelter.


He is German Shepherd and not sure if anything else
His appetite is good, he eats 6 cups of food a day. He gets four 30 minute walks a day and on weekends he runs around on the farm and plays with his friend, a female boxer.
Great dog very smart learns new things in 10 or so repetitions. Very friendly with all people. Seems to have a problem with same sex dogs but great with females.
Not sure if he is mixed or with what - his muzzle may be a little short. He has a big head. Seems to have all the features of a purebred GSD from my readings.
He is about 1.5 years old I think, not sure. Still has loose skin around his body so i know he is still a growing boy and is 70 lbs now. He was 55 lbs when I got him from the shelter 2 months ago and was underweight.
Join in and write your own page! It's easy to do. How? Simply click here to return to German Shepherd Mix.