German Shepherd Facts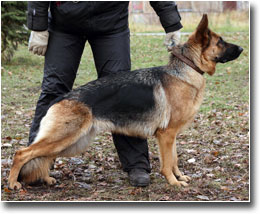 The German Shepherd Dog is also known as:
Looking for German Shepherd facts?
Here is some interesting German Shepherd info and German Shepherd fast facts.
GSD
Alsatian / Alsation
Schäferhund
Common misspellings include:
German Shepard
German Sheperd
German Shephard
German Sheppard
Captain Max von Stephanitz is the founder of the breed.
Similar shepherd breeds include:
German Shepherd history is relatively short at just over 100 years.
German Shepherd dogs information:
Males normally stand 24-26 inches and weigh 80-95 pounds
Females are usually 22-24 inches high weighing 70-80 pounds
See the German Shepherd Growth Chart for further information.
The SV (Verein für Deutsche Schäferhunde) breed standard for coat: "The normal (stock) coated German Shepherd Dog should carry a thick undercoat and the outer coat should be as dense as possible, made up of straight hard close lying hairs.
Average litter size for the German Shepherd is 8 puppies. A good reason to spay or neuter.
Famous dogs of the breed include:
Bullet "The Wonder Dog" (Roy Rogers' German Shepherd)
Champ (owned by VP Biden)
Chips the Dog (most decorated dog from WWII)
Clipper (owned by JFK)
Major (owned by FDR)
Rin Tin Tin (successor helped train dogs in the military
Strongheart (k9 police dog heritage)
Timeline - German Shepherd Facts
Hektor Linksrhein, later renamed Horand von Grafrath, was spotted in Karlsrühe, Germany by Captain Stephanitz in 1889.
GSDs were first trained for police work in the 1890's in Ghent Belgium.
The first German Shepherd was exhibited in America in 1907.
A member of the herding group, the first GSD was registered with the American Kennel Club in 1908.
In 1917 England, the GSD name was changed to Alsatian.
Rin Tin Tin and his sister Nanette were discovered in 1918 in a bombed war dog kennel in Lorraine, France. Rinty is credited with saving Warner Bothers Studio from bankruptcy.
Strongheart became one of the first canine stars of the silent movie era in 1921.
German Shepherd "Buddy" became the first seeing eye dog in 1928.
Vietnam war hero, Nemo, becomes the first sentry dog to be officially retired from active service (with honors) in 1967. Unfortunately, only a handful of the ~4,000 Vietnam war dogs that served were brought back.
The UKC (United Kennel Club) in 1999 recognized White German Shepherd dogs as a different breed - the White Shepherd.
H.R. 5314, was signed in 2000 which allowed (finally!) for the adoption of retired military working dogs.