Chase's weight
by Allison
(Ballwin, MO)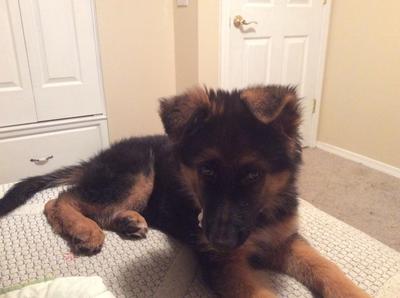 Chase my GSD baby at 3 months
His name is Chase. I got him in Tampa, Florida and he is a purebred GSD.


His last vet visit was 7/24 and he weighed 17.6 pounds. When I got him, he weighed 8 pounds.
Chase eats
Blue
and has a great appetite.
If it's not raining or too hot, he gets a walk a day. If raining, he gets to play with his Old English Sheepdog brother.
Chase seems to be smaller than the chart but my vet says he is the right weight.
Update: 8/27 vet appointment for rabies shot he weighed 33 pounds. He gained 15 pounds in a month!