CiCi - German Shepherd with brindle coloring
by Krisha
(FL)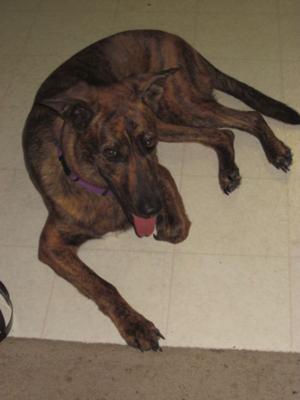 CiCi My German Shepherd Mix
We got CiCi about 18 months ago from a shelter.


She was 2 months old when we got her. We were told by the guy who dropped her off there that she was a
shepherd/lab mix
. Originally the vet thought lab mix because of the floppy ears, but not shepherd, due to the brindle coloring.
Once she got older and her face started looking more like an adult dog and not a puppy, her face started looking more dominantly like that of a German Shepherd. Now we were told she's definitely part German Shepherd, but not sure of what else she is mixed with.
There's a few breeds that can have brindle coloring, but I doubt she's a pit because she doesn't have that pit snout that I see a lot of pit mixes as having, but I could be wrong. She does have a high curve by her hind legs that makes me think greyhound but not sure.
Does anyone have any suggestions on what you think she could be mixed with? I won't know for sure unless I get a blood test done of course, and it really doesn't matter because we love her no matter what breed she is.