Delaney's Starry Night (Gretchen) growth from 7 weeks
by Kathy Delaney
(Lexington, OK)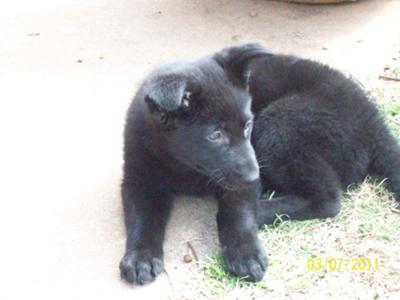 Gretchen in the back yard learning all kinds of things
We bought Delaney's Starry Night (Gretchen) outside of Oklahoma City, OK on 3/5/2011. She was the middle sized female of a litter of 5 - 2 males and 3 females. We weighed her at home on 3/6/11 at 10 lbs. The next day we took her to the vet for a check over. She weighed in at 11.2#. She is a pure black GSD from a champion Czech line on her sire's side, American GSD on her dam's side. Her sire, Ozzie, is a very large 110+ lb. solid black GSD. Her dam, Jade, is 70 lbs and also solid black. Both dogs have excellent temperament and it seems she does as well. We haven't measured her length, height yet. She is a beautiful puppy. Her fur is soft and very shiny. She is energetic, alert, and very sweet.


I am amazed at the variety of vocalizations she has when she wants to play in the middle of the night. We are crate training her. She is getting better about it after 5 days and 4 nights. She has a soft little beaver toy and a horse hoof trimming she brought with her when she came home with us. She seems to love them equally.
While we purchased her for eventual breeding purposes, she is first and foremost our beloved pet and friend. She will receive the best training and care we can give her. And all the love she needs.
Join in and write your own page! It's easy to do. How? Simply click here to return to German Shepherd Growth.