Eyo's slow start
by Pius M.
(Dar Es Salaam, Tanzania)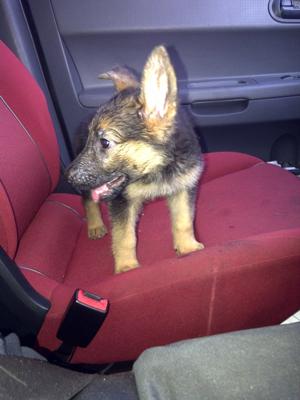 Taking Eyo home the first day 18/12/10
Eyo was born on 21/10/2010. I got her to the family a week before xmas, when she was about 8 weeks. She got her name from my 16 month old son, he saw her and pointed at her bubbling Eyo! :D


I first got her checked at 11 weeks, she only weighed 4.5 kg. I have checked her at 24 weeks, she is 20 kg standing at 53 cm and 62 cm long. She is so fit and active, no fat whatsoever. She is on a raw meat mixed with dry food diet.
She is adorable and keeps the whole family happy, mostly, a playmate of my little son. I hope she grows to be huge and protective of the family and property.
Join in and write your own page! It's easy to do. How? Simply click here to return to German Shepherd Growth.