German Shepherd mixed puppy?
by Pothuraju Chiranjeevi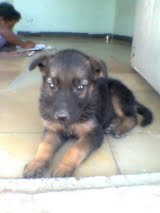 GSD mix puppy
I have a two month old GSD puppy but the hair looks so small. Can u tell me about that?


I am am sending my puppy photos at the age of 1 month. I am getting so tense pls say any thing about this puppy.
Now, at 3 months, the puppy is looking like a street dog.