GSD - Akita Mix is a special bundle of wonderful
by Julie
(Dallas)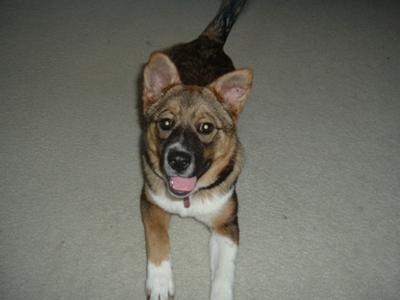 Jojo German Shepherd Akita Mix
When we first spotted JoJo at the shelter, some of her coloring screamed German Shepherd but we knew, based on size & color-mix that she was by no means a pure bred. The papers that we were given by her former owner's vet (apparently she'd been adopted & returned) stated she is an Akita mix.


I was amazed at what a sweet and friendly pup she turned out to be. She is highly intelligent, very gentle, and extremely loyal. She's a great guard dog as well as family pet. No yelling was necessary to break her of the habit of chewing on our arms & feet. A little whimper got her attention (and enough guilt) that she quickly quit on her own.
We did not breed her but when we finally got our GSD pup, she became an awesome surrogate mom.