Is Jade a purebred GSD or mix?
by McKenna
(Saskatchewan, Canada)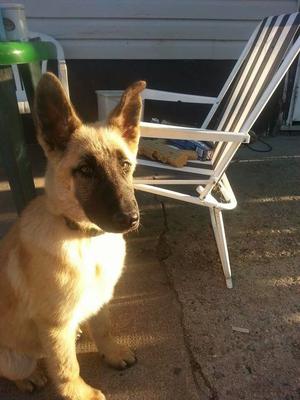 Jade at 4/5 months old
Her name is Jade.


She was given by my grandfather on his farm.
I can't really tell what kind of mix she is. . I was told many times that she may be purebred.
Her appetite is normal.
I try to take her for walks but she is not used to being on a leash, it seems like she's scared of being on a leash. I usually play with her in my yard with my purebred GSD, Charlie. They usually chase around each other and play, so Jade seems to get good exercise.
She is a very shy dog, although she does have a loud bark. I was told she can be aggressive but I have not experienced it yet. She was also the largest pup in the litter but she was picked on by other dogs, which made her timid.
Jade and I quickly grew on each other, I absolutely love her. I am just unsure if she is purebred or not. I am also not sure if her parents are purebred.
Join in and write your own page! It's easy to do. How? Simply click here to return to German Shepherd Mix.