Jerry Lee's Growth
by Amber
(United States )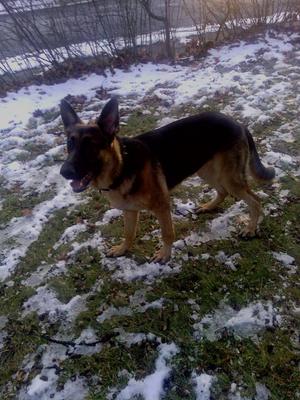 Jerry Lee 8 months old
I got my GSD Jerry Lee from a local breeder on 6/6/13 when he was 2 months old at that time he weighed 15lbs


He is a purebred GSD.
Currently he is 8 months old and is 86.2 lbs and stands about 25 inches tall. I expect to be at least 100-110 lbs fully matured. He is on a prey model raw diet and has
TOTW
for back up in case I run out of food.
He gets about a 45 min walk. After our walk, he does some tracking in our yard, along with basic obedience and some basic bite work on the sleeve.
Jerry Lee is a great dog. I love everything about him. He's very protective over his territory and is a real sweetheart with the family. He always draws a crowd when we are out in public and everyone tells me how beautiful he is and how much they love him.
He also has a little Facebook page: https://www.facebook.com/WeLoveJerryLee
Join in and write your own page! It's easy to do. How? Simply click here to return to German Shepherd Growth.