Leela, GSD mixed with?????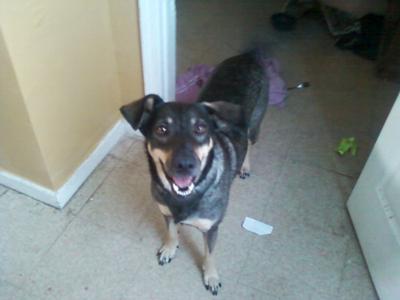 Leela GSD Mix
Leela is a beautiful 2 y/o dog who we found on CL from a young family that needed to find her a home. I was told by the owners who had her from a pup that she is a GS mix but they didn't specify with what. All I know is they got her from a shelter as a puppy which is why she is spayed and probably micro chipped too.


She has the colors and markings and the face but she is only 50 lbs and her tail curls up like that of a Chow or Akita or of that nature.
She is very loving with my kids 2 and 4 and is protective of her new home. Any noise she hears she immediately perks up and stares in the direction it came from. She slept in our living room last night for her first night and I suppose that's her guarding her territory.
Doesn't get into anything, doesn't go into the kitchen, knows where her seat is in the car, she loves to play with my sister's Jack Russel and doesn't mind my cat. She seems to be a perfect fit for our family.
Got her as a b-day gift for my son. I tried to convince him of another cat but he needs the attention and something he can hug or lay on that doesn't care. Leela is the perfect fit for my family and a home run if you ask me.
I would like to know what she is mixed with though. Any thoughts?