Marco the German Shepherd Mix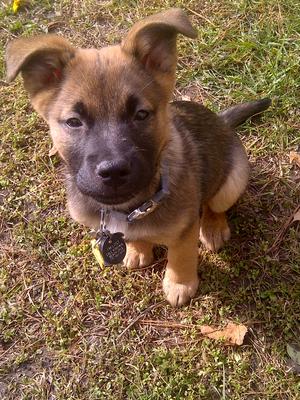 This was a week after we adopted him in March
His name is Marco. I adopted him from a local SPCA.


Not sure what kind of mix he is. I am actually not too familiar with the different types of dogs. And when I look at him I can't think of anything really. It's funny because my brothers dog's ears are much more pointier than my dogs.
He eats the amount that is listed on the bag of food. I noticed he doesn't really eat when I give him his food, he'll just go eat the food when he is hungry from what I have seen.
He plays in the backyard with my brother's dogs for about 30 mins-1hr and when the weather's nice we take him out for a run/walk around the neighborhood.
Marco is a little over 5 months old (based on the age the SPCA gave me when I adopted him) and he weighs about 27 lbs now. I'm really curious to what he may be mixed with because of his age and how he is slightly shorter than one of my brother's dogs who is a week or two younger than Marco.
Before I adopted him here's a quick story about what he has gone through. We spoke to the workers at the SPCA and they told us that he was taken by PETA from a household, along with an adult dog (they never mentioned if that was his parent or not). Eventually he bounced around a few foster homes.
In fact, it seemed as though each foster parent that he went to decided to change his name. His names were Django, Christopher, Duke, etc. And then here I come ready to adopt the lil pup, and heck... I ended up changing his name... but now it's a permanent name :), Boy... did that take a while for him to adjust to, but now he's used to it.
He is a very social dog towards other human beings. Approaching humans is never a problem to him. However, he does tend to be overly excited/anxious around other dogs, sometimes it comes off as "aggression" (we're still working on socializing him with other dogs (with a watchful eye), other than just my brother's two dogs).
I always catch him sniffing around all the time when he is in a new environment. Marco is a free spirited dog who loves to dig and go on runs.
His lovable personality stole our hearts almost at an instant. Even my mom, who originally did not want a dog, has fallen in love with Marco and does not regret a thing about having him be a part of our life.