Marley the Sweet Mix
by Analise Vaughn
(Joshua, TX, USA )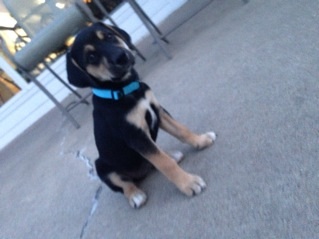 6 weeks
Her name is Marley. Got her from an ad.


The mom was a German Shepherd mix. She was a stray when they found the mom and she ended up being pregnant. They didn't know the father dog. She appears to be very tall. She is 8 weeks now, but some photos are taken at 6 weeks. I think maybe lab or Rottweiler?
Eats plenty. Eats 4-5 times a day about half a cup.
She runs constantly with our 3 year old mutt around the house and outside. Very playful. Our mini schnauzer has been rude to her, but now she wants to play but Marley stands fall around her and barks and growls and chases her around the house.
She is very sweet and plays hard.
Join in and write your own page! It's easy to do. How? Simply click here to return to German Shepherd Mix.