Max a 4 month GSD under weight
by Tom
(Orlando)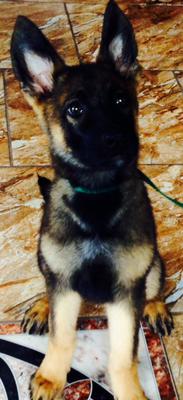 My German Shepherd, Max
His name is Max. I got him from a breeder.


He is a purebred GSD.
Right now, he weighs 22 lbs. Not sure how tall he is. He weighed 15 lbs when I got him. I don't know how tall he was.
He eats Natural Choice and his appetite is very good.
He is walked twice a day and gets lots of playtime.
I got him under weight at 3.5 months, he weighed 15 lbs. In 12 days he jumped to 22 lbs.
Join in and write your own page! It's easy to do. How? Simply click here to return to German Shepherd Growth.