Oliver, our pound puppy - German Shepherd mix?
by Angie
(Arizona)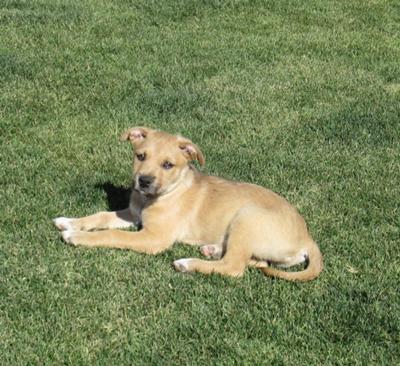 Oliver - German Shepherd mix?
We got Ollie from the pound a little over 1 week ago. There was a woman who fostered him and his siblings at home and it is obvious she did a great job. He is very sweet, sleeps through the night in his den w/o accidents and listens very well for a pup.


He is very confident, had no problem with our other 2 dogs or 4 kids, other than trying to chew on them like he would his siblings. He is 100% part of our family now. But, we were hoping for a bigger dog and once we got Ollie home, he looks a little squatty and his hair is pretty wirey.
According to the pound, he is 10 weeks. He is just over 11 lbs. Vet thinks based on his teeth seperation, he is a couple weeks older than that. We are just curious what you think. Looking at some shepherd mix pups online I found a few that look like Ollie, one was a boxer mix.
So what do you think... Shepherd mix or not?
Join in and write your own page! It's easy to do. How? Simply click here to return to German Shepherd Mix.