What Is Our Sweet Baby Mixed With?
by Iris
(Dallas, TX)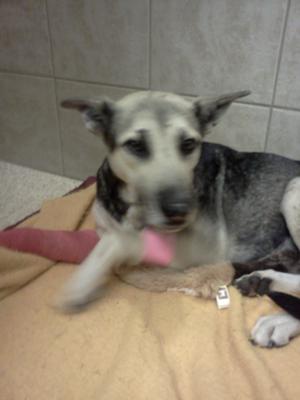 German Shepherd Mix
My father in-law works in an industrial area outside of Dallas that has a huge population of stray dogs. He has taken in quite a few, helped get them healthy and find good homes, with friends of the family or our local non-kill shelter.


About two weeks ago as he was driving to work he saw a pup in the road, she had obviously been hit by a car and left there. She was in shock, emaciated, severely dehydrated, not to mention horrible road rash, cuts all over, including a good portion of her nose missing and a fracture in her right shoulder and leg that we found out about when we got her to the vet.
She has since had a pin surgically placed to fix the fracture, finished her course of antibiotics for the infected cuts and road rash, healing better than anyone anticipated.
Turns out she's between 2 and 3 and since we brought her home from the vet, my husband, 5 year old daughter and I have truly fallen in love with the dog. Our daughter has, despite my husband and my attempts at many other names, decided to call her "Snow Angel Mina Tanksley".
She is definitely one of, if not the most, loving dog I have ever met. I have a rare connective tissue disease and she has seemed to sense this, she follows me nearly everywhere, lots of kisses, and already very protective of both our daughter and myself.
She's *very* vocal, so far only barking excitedly when my our daughter was running around the backyard right before jumping off of the deck and playfully pursuing her on three legs. Other than that she talks, almost like a mix between a whine and low howling, mostly just in response to our adoration or to get more cuddles and hugs, but when I had a bad fall two days ago, she nearly beat my husband to me, licking at my face and sounding very concerned, not leaving my side until I left for the ER.
From everything I've read, her behavior seems quite typical. I'm just so enamored with her and ecstatic to have her as the newest addition to our family. So, after rambling on forever, on to my initial question, can anyone tell what she might be mixed with?
She's only 53 lbs, although her ideal weight would be closer to 60, her belly and legs are mostly white, she has tan on the upper part of her legs and face, her back is predominately black with white mixed in. I've included a couple of pictures.
I almost think she has some husky because of the black and white coloring, but she's pretty small.
Anyone with any ideas?