Where do those ears and this tail come from?
by Birgit
(Irbed, Jordan)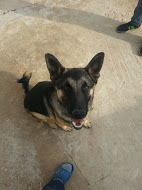 He has a crinkle tail
My dogs names are Sasha ( female) and Alex (male) both GS mixes, 11 months old.


The female I got as a present from my husband. He bought her from a local pet shop as an pure GS (workline) and the male we got from the same shop for friend who later gave him back to us because he is not "pure".
The female according to me is a mix with a Retriever (hence her nickname "Germatriever"). The male???? I have no idea sometimes I think with a Doberman, because of his thin nose and long limbs.
They eat like wolves everything that comes into their plate.
Both dogs get a training session every day of at least 20 minutes and a morning walk of 2 km and an evening walk of at least 3 km.
They are the apple of my eye, but I would like to know what mixes they actually are. Where do her floppy ears and his crinkle tail come from?
Join in and write your own page! It's easy to do. How? Simply click here to return to German Shepherd Mix.