Aragon
by Dena
(NJ)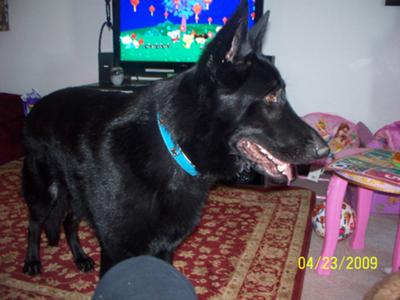 Aragon
Date: 7.18.2010


Sex: Male
Spayed or Neutered?:
Age: 4
Good with other dogs?: Yes
Good with children?: Yes
Good with cats?: Yes
Your city:
Your state: NJ
Description:
I am in the Air Force and being deployed to Afghanistan in about a month. I have a GSD that I desperately want to keep but I can't. Now I need to find a safe, loving place for him to go. He has papers and is almost 4. He is solid black and 115 lbs.
He is wonderful with kids. I have a four year old he grew up with. Cats, he just wants to play with them, but mine won't have anything to do with him... lol. He plays well with other dogs of all ages. He has play dates with my neighbor's dog all the time, and when it comes to meeting new people he loves it as well. I am in Southern New Jersey.
Dena and Aragon
Please comment on this post if you are interested.