Black Shadow's Growth
by Kate
(Brisbane)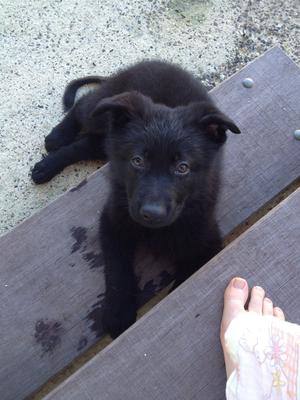 Shadow, my Black German Shepherd
His name is Shadow.


I got him from a breeder located in Caboolture, Queensland, Australia. He is
He is a purebred
black German Shepherd
with with Czech lines.
He weighs19 kgs at 17 weeks. When I got him, he was Just on 8 or so kilos at 7 weeks.
Shadow eats Advance Puppy Large Breed dog food. He is fed 2 cups of dry food twice a day, with either bones or chicken necks.
He loves to play and gets a 20 minute walk.
Shadow started off a little small as he had a few weeks where he suffered the runs, which cleared up when we put him on Advance. He's still got huge paws. We are hoping he'll turn out to be a big fella. He's finished puppy school and we are now looking for an obedience class for him.