Brody
by Nicola
(Australia)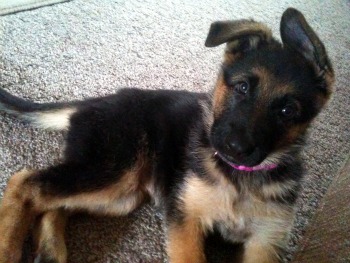 What you looking at?
I have a 14 weeks female German Shepherd.


I have grown up with GSD's my whole life. With my parents showing them I was surrounded by this beautiful breed.
After buying my own house my first thing on the list was to buy a pure bred GSD from a breeder.
I cried when they told me she was born and have been so excited ever since to get her home.
She is the love of my life. The most confident, playful, energtic, friendly little girl who at times is very naughty.
Brody is going through the ignoring stage at the moment but never strays too far from us. She loves her toys and enjoys just being around people.
She really enjoyed puppy pre school and loves playing with other dogs and children. We are enjoying watching her get bigger.
As I don't have children she is my baby. Also as a mum I believe she is so beautiful.
Join in and write your own page! It's easy to do. How? Simply click here to return to German Shepherd Puppy Pics.