Your Knowledge Can Become Your Livelihood
Did you know?
You Can Make Money With Your Hobby
I learned this quite by accident after a routine surgery left me injured...
Years ago, during wisdom tooth surgery, I suffered a nerve injury. The novocaine wore off, but my chin was still numb! Scared that this may be a permanent condition, I scoured the web for information on oral nerve damage.
I found a forum full of many others like me that had suffered nerve damage from all kinds of oral surgeries. I tried a ton of products during my search for a cure. Some helped, and others, not so much.
After several weeks, my nerve finally healed. I was so thankful, I wanted to share what I had learned to help others.
I blogged about my nerve damage recovery and recommended products that had helped me. To my delighted surprise, the blog began generating an income.
Wow.
I was helping people. And making money at the same time. It was a true win-win situation.
Initially, it wasn't much. And oral nerve damage is a relatively limited topic.
But then the lightbulb went on. Could I do this for other topics?
Do what you love and the money will follow.
~Marsha Sinetar
I started blogging and building websites. On things I knew a lot about, or wanted to learn about.
But the sites got little to no traffic. And I became discouraged. What's the point of building a website if no one is going to see it?
Secret Weapon
Enter SBI.
Ironically, I had heard about this company back when I started my first blog. But, I didn't fully appreciate everything they offered. And I honestly thought they held your hand a bit too much. LOL
After all, I'm smart. I can do this myself, right?
So, I found a cheap webhost and built my niche websites. And they sat there... doing next to nothing.
But why? I was providing useful and interesting content.
It didn't matter. Because very few people could find my helpful information in the glut of over 250 million Internet sites. Even the site I worked the hardest on only managed to get 20 visitors per day. Most sites average about 50.
Looking back, I now know that my "niches" were way too large. And I didn't know how to help people find them through the search engines.
I decided to give SBI another look. And I'm SO glad I did.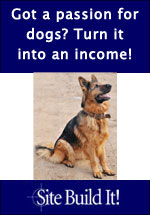 They taught me how to brainstorm topics that I had a passion for. And showed me which ideas had the most promise. My initial thought was to build a website on dogs. But their brainstorming tools showed me that was way too saturated.
I narrowed it down to my favorite dog breed and used their integrated toolset to build my site.
Bingo!
Immediately, I started getting traffic. In a short period of time, it received more visitors than all of my other sites combined. This German Shepherd site now receives over 30,000 unique visitors (and over 130,000 page views) per month. And it is climbing in leaps and bounds.
Within a few weeks, the site began generating income. At first, it wasn't much, but it was enough to make me realize that SBI! really works. The site paid for itself within the first few months. Then it earned a profit.
Find out more about Site Build It!